King's Lynn based national charity Scotty's Little Soldiers, has invested in cutting edge technology to make it easier for people to make donations in time for Armed Forces week. The charity which provides long-term emotional, educational and development support to children and young people who have lost a parent in the British armed forces is trialling contactless donation stations at two locations in King Lynn. In a modern take on the traditional donation tin on shop counters, the stations will allow people to donate by simply tapping their debit card or Apple phone on the screen in the same way they do when using contactless payments.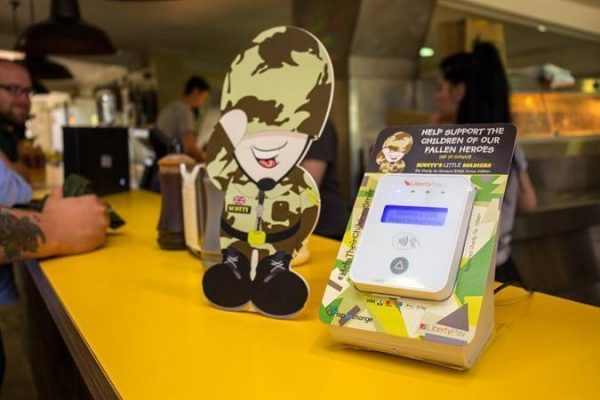 Founded by war widow Nikki Scott in 2010, Scotty's Little Soldiers now supports over 370 bereaved British military children and young people across the country. The charity was set up in memory of Nikki's husband and father to her two children, Corporal Lee Scott, after he was killed in Afghanistan in 2009.
Nikki said,
"Life is busy for everyone and hardly any of us carry cash anymore, so upgrading the donation tin to the 21st century is a really exciting development for us.

"We're so pleased to have the support of two top local business who are trialling this simple to use technology. I'm hoping people will like them and that it will encourage more businesses to install them for us as we rely heavily on public support and generosity to do what we do."
The first of the stations is at Award Winning Eric's Fish & Chip shop in Drove Orchard, Thornham. Eric Snaith the 'Eric's' chain owner and Executive Chef at Titchwell Manor said
"As a local businessman and family man with links to the military, I know how important the work Scotty's does is. The fact that this local charity is at the forefront of supporting bereaved forces children and young people across the country is something we in West Norfolk can be proud of and I'm pleased my staff and I can play our part.

"I find it poignant and timely that we are launching this campaign to coincide with National Armed Forces Week, as it gives our great customers the opportunity to demonstrate their support for our service men and women in an easy, practical and really impactive way."
Drove Orchard is a large family run, rural retail park, owned by the Jamieson family who have strong links to the military. David Jamieson, the grandfather of Site Owner, Oscar Jamieson, is one of only five Norfolk residents to have ever been awarded the Victoria Cross. Oscar said,
"My family has strong ties with the British Army, and we're acutely aware of the debt we owe to our service men and women. We are delighted to be able to assist 'Eric's' and 'Scotty's Little Soldiers' in this project, helping this great charity in it's vital mission, supporting children and young people who have lost a parent in our Armed Forces."
The second station is at Gould's Barbers in Kings Lynn. The Gould chain is owned by brothers Leigh and Darren Gould who are friends of Scotty's Little Soldiers CEO Stuart Robinson. Leigh commented, "knowing Stuart, Darren and I are personally aware of the tragedy which lead to the creation of the charity and of the great work it does. We are very pleased that we can help Scotty's in this way."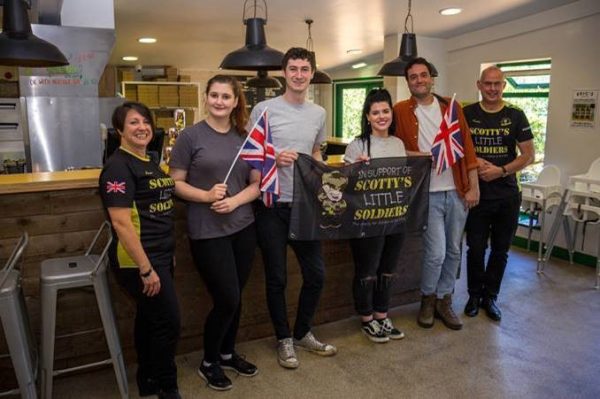 Notes to editors
To speak to a member of the Scotty's Little Soldiers team, please contact Scotty's national PR agency: Claire Lomax (claire@wolfstarconsultancy.com), Chris Grayson (chrisg@wolfstarconsultancy.com), Rochelle Tattersall (rochelle@wolfstarconsultancy.com) or 0113 273 7816.
About Scotty's Little Soldiers
Scotty's Little Soldiers, founded in 2010, honours Corporal Lee Scott's memory – both as a loyal soldier and a loving father – and provides a practical yet personal way for the public at large to show their appreciation for those brave individuals who make the ultimate sacrifice in the service of their country. Currently Scotty's Little Soldiers supports 372 bereaved children and runs a variety of programmes to help children smile again and look forward to a brighter future. You can visit the charity online at http://www.scottyslittlesoldiers.co.uk/