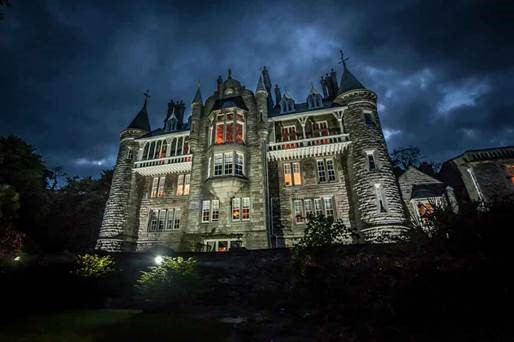 Blind Veterans UK, the charity for blind and vision-impaired ex-Service men and women, is inviting local residents to join them for a 70s-themed Murder Mystery evening.
The evening, titled Murder on the Dance Floor, has been written by A Play Fitted Theatre Company and will take place on Friday 15 June at Chateau Rhianfa, Menai Bridge.
Victoria Beech, Regional Fundraiser for Blind Veterans UK, says: "We're hoping that, as usual, guests make the most of the opportunity to get dressed up and fully embrace the occasion! The latest script, excellently produced and performed by A Play Fitted Theatre Company, will encourage our guests to be both creative and glamorous. We can't wait to see which characters they take inspiration from!"
The setting of the drama is the final of the eagerly anticipated dance competition, in which the Bell Bottom Boogies are pitted against the Sequined Spinners for the esteemed Disco Dance Troupe title. Tensions, however, are inevitably set to boil over, with the finalists finding themselves in the middle of a murder investigation.
Not only will there be prizes for the winning table of would-be detectives, but the best dressed will also be awarded. Dinner will also be included for the evening's Glam Rockers, Disco Divas and Charlie's Angels wannabees.
Tickets are £40 per person and payable in advance. Pre-booking is essential by Friday 1 June. Vegetarian options are available. For more information, or to book tickets, please contact Suzanne Evanson on Suzanne.evanson@blindveterans.org.uk or 01492 868723. Special rates on accommodation at Chateau Rhianfa are also available for Murder Mystery guests.
Blind Veterans UK was founded in 1915 and the charity's initial purpose was to help and support soldiers blinded in WWI. But the organisation has gone on to support more than 35,000 blind veterans and their families, spanning WWII to recent conflicts including Iraq and Afghanistan.
For more than a century, the charity has been providing vital free training, rehabilitation, equipment and emotional support to blind and vision-impaired veterans no matter when they served or how they lost their sight. Visit blindveterans.org.uk/support to learn more about the charity and how you can support its vital work today.
For all media enquiries please contact: Felix Arbenz-Caines, PR Assistant, Blind Veterans UK, 12 – 14 Harcourt Street, London W1H 4HD, E: Felix.Arbenz-Caines@blindveterans.org.uk, T: 020 7616 7941
Notes to Editor
Blind Veterans UK
Blind Veterans UK is a national charity that believes that no-one who has served our country should have to battle blindness alone. Founded in 1915, the charity provides blind and vision impaired ex-Service men and women with lifelong support including welfare support, rehabilitation, training, residential and respite care.
Find out more at: blindveterans.org.uk, follow us on Facebook at: facebook.com/blindveteransuk and on Twitter at: twitter.com/blindveterans.