The Lord Mayor of the City of London unveiled a themed garden in Guildhall Yard, to support the Lord Mayor's Platinum Jubilee Big Curry Lunch, which takes place on 7 April 2022. He unveiled the garden with Peter Newman, chief executive of horticultural charity, Perennial.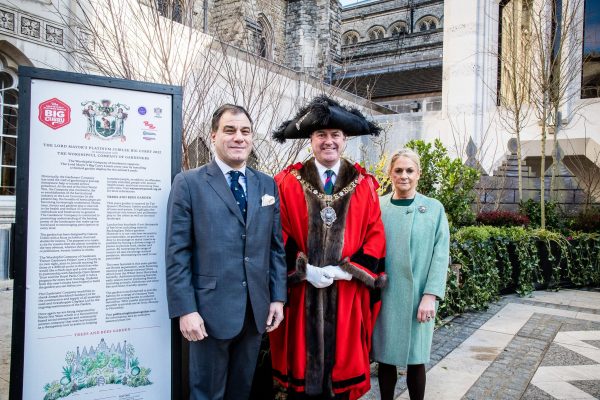 Since its inception in 2008, the lunch has raised over £2.5 million for the three national Service charities: ABF The Soldiers' Charity, the Royal Navy and Royal Marines Charity, and the RAF Benevolent Fund. The money raised from this year's lunch will be used to help support veterans into employment.
The garden, which is inspired by The Queen's Platinum Jubilee and reflects her love of trees and nature, was designed by Gianna Utilini on behalf of The Worshipful Company of Gardeners, which supports the lunch each year and has historically used the craft of gardening to provide therapeutic help to injured service personnel.
Commenting on the Lord Mayor's Platinum Jubilee Big Curry Lunch, The Lord Mayor, explained:
"Supporting employability has always been a core objective of the City of London and by supporting this lunch, you are helping the brave men and women who have given everything for our country to get something you cannot put a price on – a new life where they can hold down a job, which, given our current post-pandemic situation, is an incredible gift."
The Lord Mayor who has set a "hefty target of £270,000" to raise for the lunch added: "The lunch is in two months and so please sign up in as many ways as you can: as a sponsor, as someone running a stall, or – indeed – buy lots of tickets."
Tickets for the lunch each cost £100 and will include unlimited curry, beer, and wine. Please visit: www.soldierscharity.org/lordmayors
An annual fixture in the City calendar, The Lord Mayor's Platinum Jubilee Big Curry Lunch will take place in Guildhall's Great Hall on 7 April 2022 – after taking place online last year with a series of fundraising events, due to the Covid-19 pandemic.