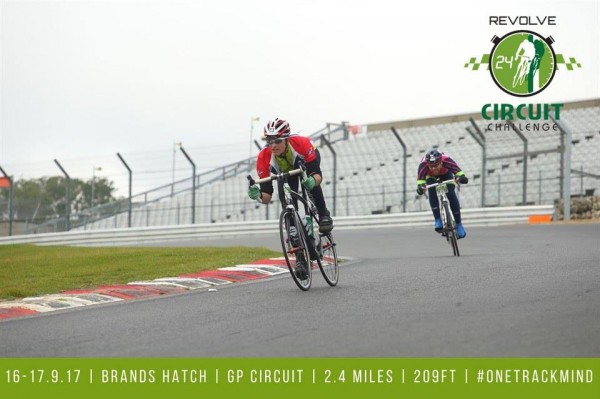 A magazine editor from Surrey has completed Revolve 24, the Brands Hatch Cycle Challenge, for Blind Veterans UK, the national charity for blind and vision-impaired ex-Service men and women.
Chris Bennett, 54 and from Bookham, admits the terrain of the course took him by surprise. He explains: "The race itself was much hillier than I thought, which just made the entire event tougher than I expected.
"The track isn't lit up at all so you had to depend on your bike lights, which meant that in the small hours of the morning, just when the tiredness was kicking in, you had to really, really concentrate!"
Despite the gruelling nature of the race, Chris admits that, overall, morale was high, even if the conversation levels eventually suffered as a result. He says: "The camaraderie was great, people on the course were keeping each other's' spirits up but you could tell a lot of people were really struggling with the physical effort. Once the rain and then mist set in, the conversation levels really started to dip!"
Chris has been a supporter of Blind Veterans UK for a number of years now, through the partnership that his magazine, Optician, has with the charity. He explains: "Optician works with eye care professionals on the high street and in hospitals and we've been with Blind Veterans UK for a while now. The work they do in providing practical assistance to those in need and looking to adjust to sight loss is essential and a cause we're proud to support."
While Chris has no military background himself, he retains an enormous amount of respect for the men and women who have bravely served their country. He says: "My father served in the Second World War so I've always held a huge amount of admiration for people, particularly those who are very young, who put themselves in danger for the good of others."
After taking part in a similar event at Le Mans a few years ago, Chris was eager to find another long distance challenge that he'd be able to push himself for. As it turned out, the famous course at the Brands Hatch circuit proved too good an opportunity to turn down.
Despite the extreme exhaustion endured, Chris has already raised an incredible £1,000. Despite his successes, he remains understandably cautious about pledging himself to any similar challenges in the future. He says: "Would I do it again? Let's just say I'm yet to put my name down for 2018!"
To donate to Chris, please visit: justgiving.com/chrisbennettoptician.
Blind Veterans UK was founded in 1915 and the charity's initial purpose was to help and support soldiers blinded in the First World War. But the organisation has gone on to support more than 35,000 blind veterans and their families, spanning WWII to recent conflicts including Iraq and Afghanistan. They have set the ambitious target to double the number of veterans receiving its life changing support to over 8,000 by 2022.
For more than a century, the charity has been providing vital free training, rehabilitation, equipment and emotional support to blind and vision-impaired veterans no matter when they served or how they lost their sight. Visit blindveterans.org.uk/support to learn more about the charity and how you can support its vital work today.
For all media enquiries please contact: Felix Arbenz-Caines, PR Assistant, Blind Veterans UK, 12 – 14 Harcourt Street, London W1H 4HD, E: Felix.Arbenz-Caines@blindveterans.org.uk, T: 020 7616 7941
Notes to Editor
Blind Veterans UK
Blind Veterans UK is a national charity that believes that no-one who has served our country should have to battle blindness alone. Founded in 1915, the charity provides blind and vision impaired ex-Service men and women with lifelong support including welfare support, rehabilitation, training, residential and respite care.