A magazine editor from Surrey has completed the Brighton Marina Triathlon for Blind Veterans UK, the national charity for blind and vision-impaired ex-Service men and women.
Chris Bennett, 55 and from Bookham, took part in the triathlon on Sunday 30 September and has raised more than £1,800 for the charity. Having originally signed up to compete in the Sussex Original Triathlon which was cancelled due to bad weather, Chris was determined to find an alternative. The triathlon course included an 800m sea swim, followed by a particularly hilly cycle on the South Downs and an 8km run along the sea front to finish.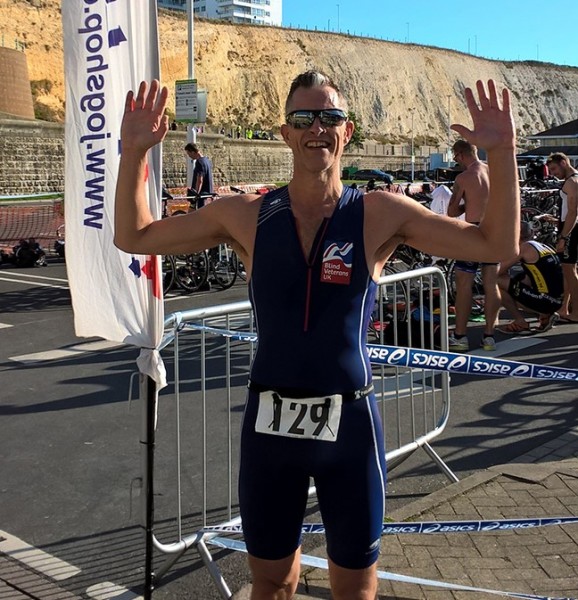 Chris says: "It's the end of the season so finding another race was really tricky. When the Sussex Original Triathlon was cancelled I signed up for the Brighton event and an hour later it was sold out. The Brighton Marina Triathlon was a perfect alternative as the bike course went right past the front door of the Blind Veterans UK centre in Ovingdean.
"It was a really friendly triathlon – no frills but a nice race in a beautiful setting. The sunrise over the sea was beautiful and there was hardly a ripple on the water so it was a great swim. There was the usual washing machine effect and lots of bumping and bashing but I got around the swim in good time.
"Having trained for the longer half ironman distance I just made an effort to go for it as I knew the race was shorter and wouldn't last so long. It was a real bonus having trained for a longer event because I could enjoy the race."
Chris has been a supporter of Blind Veterans UK for a number of years through the partnership that his magazine, Optician, has with the charity. He explains: "Optician works with eye care professionals on the high street and in hospitals and we've been with Blind Veterans UK for a while now. The work they do in providing practical assistance to those in need and looking to adjust to sight loss is essential and a cause we're proud to support."
While Chris has no military background himself, he retains an enormous amount of respect for the men and women who have bravely served their country. He says: "My father served in the Second World War so I've always held a huge amount of admiration for people, particularly those who are very young, who put themselves in danger for the good of others."
As for his next challenge, Chris already has his eye on the Alpe d'Huez Triathlon in France, so watch this space.
To support Chris visit: https://www.justgiving.com/fundraising/opticianeditor.
For all media enquiries please contact:
Ailie MacDonald Wilson
Regional Marcomms Executive, South East
Blind Veterans UK
12 – 14 Harcourt Street
London
W1H 4HD
E: ailie.macdonaldwilson@blindveterans.org.uk
T: 07599 535484
Notes to Editor:
Blind Veterans UK
Blind Veterans UK is a national charity that believes that no-one who has served our country should have to battle blindness alone. Founded in 1915, the charity provides blind and vision impaired ex-Service men and women with lifelong support including welfare support, rehabilitation, training, residential and respite care.
Find out more at: blindveterans.org.uk, follow us on Facebook at: facebook.com/blindveteransuk and on Twitter at: twitter.com/blindveterans.