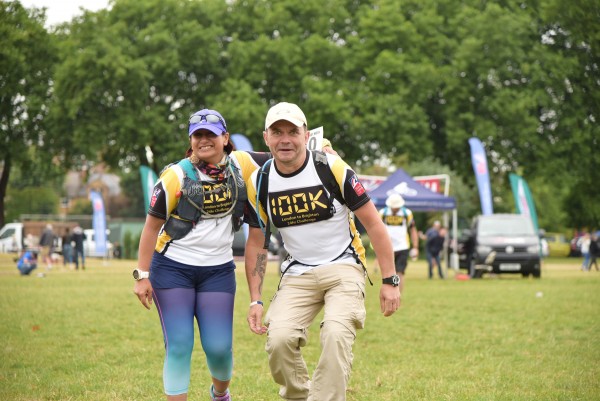 A man from Guildford is currently training to compete in a 100km walk from London to Brighton for Blind Veterans UK, the national charity for blind and vision-impaired ex-Service men and women.
Chris Garwood, 47, will be attempting the ultra-challenge for the third year in a row. Chris completed 72km in his first year, despite not having trained, but was unfortunately unable to finish due to injuries sustained to his feet. Last year, after saying he would never do it again, he once again found himself at the starting line. He recalls: "Even though I didn't finish in 2016, I was still incredibly happy with what I'd achieved. 72km is an awfully big distance and not a lot of people can say they've walked it in one go!
"At the time, I was happy to leave it at that. But afterwards, I had so many voices in my head saying I had to give it another crack that I felt I just had to finish it!"
When he's not competing in ultra-challenges, Chris works at Sky as a Specialist Engineer. It was through his work that he met Joey Sharma, a long-time fundraiser for Blind Veterans UK and, as it turned out, the key to his success in last year's event. He explains: "I was at Joey's house on a job and I came across all her medals. She told me about the 100k London to Brighton and that's how I initially came to sign up in my first year. I kept on seeing her throughout the route, and so when I realised I had to give it another go, I decided to give her a call to see if she'd help me out with my training!
"She happily obliged and thank goodness she did! She made an enormous difference. The motivation, the insight, the advice – she changed everything. I actually found myself enjoying walking for the first time in my life. Previously I'd always struggle to go out by myself but, thanks to Joey, I was able to go out and do 40km walks on my own. She gave me a completely different mind-set and I desperately needed it."
Indeed such was the support of Joey that Chris was able to successfully finish the 100k in just his second attempt. He says: "I was so much more relaxed and had a lot more fun. To put it into context, in 2016 I hit the 72km mark at 7:00am. In 2017, I'd already reached it by 2:00am!"
Chris himself served in the Territorial Army for six years and explains he couldn't imagine doing the 100k for any charity other than Blind Veterans UK. He says: "I had a fantastic time in the Territorial Army. If anything, I wish I'd stayed in longer. I'd recommend it to anyone else.
"Obviously my time in the military community provided me with an immense amount of appreciation and respect for the sacrifices made by the brave men and women of our Armed Forces. It's fantastic to see the work the charity does in ensuring that veterans living with sight loss get the support they so richly deserve.
"The support you get from the charity along the route of the 100k is fantastic, too. They cheer you on, constantly, and trust me, it makes a huge difference. What's also great is that, through my work, I've come across people whose parents have been supported by the charity, and the gratitude they have for the fundraising I've done is incredibly humbling.
"There's no feeling quite like knowing you've given something back to those who've given us so much."
After finishing last year's event in 24 hours 52 minutes, Chris is determined to finish this year's event in under 24 hours. He explains: "I'm excited to get out there again. I'm doing it with three other guys from work and right now we're just focusing on getting the training started again."
Such is Chris' enjoyment of the event that he's desperate to encourage as many others as possible to get themselves signed up. He says: "So long as you put in the training, the distance shouldn't be an issue. Forget about the fact that it's 100km, just think check-point to check-point. Seeing the veterans at the fish line makes all the aches and pains worthwhile.
"You won't regret it."
The 100k London to Brighton will take place from 7 – 8 July 2018. It will see participants start off at the Hammersmith and Fulham Rugby Club, before crossing the North Downs, walking via woodland and small villages to Sussex and through the South Downs.
Registration is currently open with a fee of £50 for individual and team entrants, and £100 for relay teams. There is a minimum sponsorship pledge of £300 for individuals, £1,250 for teams and £500 for relay teams. The all-inclusive entrance fee includes lunch, dinner and breakfast at numerous rest stops, snacks and refreshments along the route and a free event t-shirt.
To support Chris as he takes on the 100k for Blind Veterans UK, please visit: justgiving.com/chris-garwood47.
To sign up for the Blind Veterans UK 100k, please visit blindveterans.org.uk/100k.
More images available on request.
For all media enquiries please contact: Felix Arbenz-Caines, PR Assistant, Blind Veterans UK, 12 – 14 Harcourt Street, London W1H 4HD, E: Felix.Arbenz-Caines@blindveterans.org.uk, T: 020 7616 7941
Notes to Editor
Blind Veterans UK
Blind Veterans UK is a national charity that believes that no-one who has served our country should have to battle blindness alone. Founded in 1915, the charity provides blind and vision impaired ex-Service men and women with lifelong support including welfare support, rehabilitation, training, residential and respite care.
Find out more at: blindveterans.org.uk, follow us on Facebook at: facebook.com/blindveteransuk and on Twitter at: twitter.com/blindveterans.