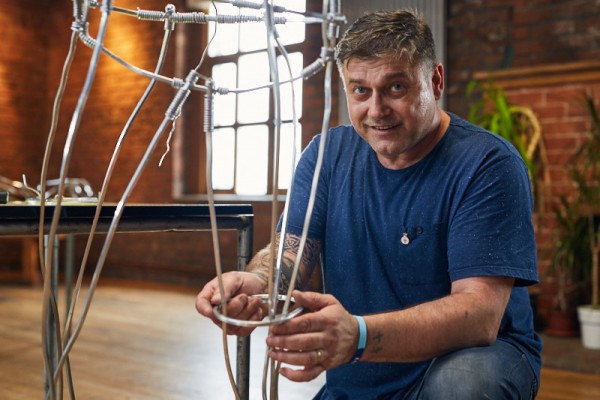 An exhibition of sculptures created by military veterans from Manchester opened at the Lowry Hotel on Thursday 22nd June.
12 wounded, injured and sick Service personnel from Greater Manchester joined Bravo 22, a Royal British Legion project using art to aid their recovery.
They've been working with professional sculptor Al Johnson, who said: "This is an exciting opportunity to take part in a creative project making life-size sculptures, and to share these very personal pieces with the public at an exhibition at the Lowry Hotel. It will be life-changing for some of them.
"Each of the sculptures is unique to its creator and tells a different story of recovery; from a painful memory to worries about civilian life or injuries that can't be physically seen."
The veterans, who have all been sourced by the Legion, had just four weeks to create their pieces at Bridge 5 Mill, Ancoats, before moving their artworks to the prestigious hotel for the fortnight-long exhibition.
Alison Bunn, Greater Manchester Area Manager for the Royal British Legion, said: "Through art, the project aims to improve participants' self-awareness, confidence, self-esteem and motivation to help to move them along their individual recovery pathway. They are given a platform to express themselves, through art.
"This is just one of the ways we are using your donations to help support our Armed Forces community in Greater Manchester."
Actor Ray Winstone, Patron of The Art of Recovery project, said: "Bravo 22 helps wounded, injured and sick Service personnel, along with veterans and family members, on their path of recovery through theatre or art. There's no need for any previous experience to get involved and it's an awesome project."
One of the artists, Simon Graham, served in the RAF 5131 Bomb Disposal Squadron, working on anti-terrorist and conventional weapon disposal from 1987 – 1996. He said: "The constant anxiety that came with the military role resulted in combat-induced PTSD, and I became very isolated and had difficulty communicating with anyone. My lowest point was two years ago when I made a suicide attempt. My sculpture shows the negativity of trauma, the hope I have for the future, and the support from my wife Michelle, my daughter Gabrielle and my loving family in helping me heal.  My ambition is to be the person I used to be and to once again feel normal."
Lenny Brennand served seven years in the Army with The 1st Battalion Grenadier Guards in the Support Company, firing mortars and as part of the reconnaissance platoon, and did two operational tours in Northern Ireland. He said: "Art takes my mind off the past bad memories, and gives me a sense of achievement with the finished product in front of me.  I was a bit daunted by this project at first because I was being asked to build something life-size in a large room with many other people.  But right from the beginning you're made to feel relaxed and, with the banter from other veterans, the humour level goes back to when you served."
Ex-Royal Navy seaman Ian Rudge, 59, from Eccles, served with 820 Squadron for seven years.  He said: "When I first joined Bravo 22 I was very apprehensive but everyone has been so friendly and enthusiastic, I feel like I belong. Believe me, it doesn't take much for me to stay in the house, and if I didn't enjoy it I wouldn't come out – I've literally stayed at home for the last two years."
As the nation's largest Armed Forces charity, The Royal British Legion is committed to helping Service personnel, veterans and their families live on to a more hopeful future and, through campaigns and projects such as this, they provide a voice to the Armed Forces community.
Ends