Accepting a dare from a grandchild can be a risky business, but that is exactly what Huddersfield's Marion Rennie did – and by doing so is raising money for SSAFA, the Armed Forces charity.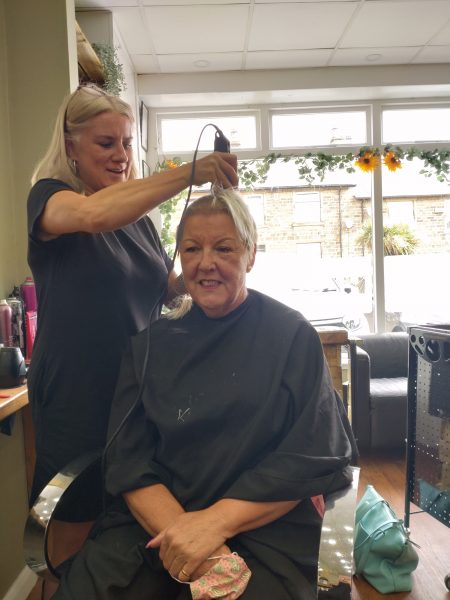 Marion (68) is no stranger to SSAFA. She recently stood down as SSAFA West Yorkshire's Branch Secretary, but wanted to continue
"… giving something back to those men and women who served our country".
Marion explained more, saying:
"Although I did not serve in the Armed Forces, I have always been surrounded by those who did.

"My father served in the precursor to the REME with the Black Watch towards the end of the Second World War. My brother served in the REME including Germany and Northern Ireland, while my sons have both served in the Royal Navy, the eldest for nine years and the youngest for over 24 years."
But to cut to the chase, or rather Marion's new hairdo, she says:
"I was visiting with my granddaughter – Elizabeth – and after seeing a video of a lady getting an extremely short haircut, my granddaughter suggested I do it too."
With a career including being a legal secretary and a medical secretary, Marion is perhaps not the kind of woman to make a decision on a whim.
However, as she says:
"I was in my local hairdressers, Hair of Marsh, and before I knew it, I asked my hairdresser, Pauline, to give me a buzzcut for SSAFA."
Marion's charity chop has so far raised a very creditable £130 for SSAFA. This will go towards supporting veterans, serving personnel, and their families as it has done for 137 years, and further donations can be made at justgiving.com/marionrennie.
With a smile, Marion has not decided what other fundraising she will do for SSAFA, but adds:
"… I'll make sure it's a cut above, that's for sure."
For more information – including how to volunteer, fundraise, or access services – visit ssafa.org.uk/west-yorkshire.