Officers' Association Scotland
Charity Number: SC010665
Scottish Charity Number: SC010665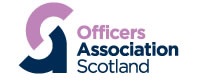 Provision of employment and career transition services for serving and former officers; relief of distress among former regular or reserve officers and their dependants. Applicants must be resident in Scotland at the time of their initial application or have been members of a Scottish Regiment.
Contact Information
New Haig House
Logie Green Road
Edinburgh
EH7 4HR

0131 550 1575 / 1581
Support Offered
Direct financial assistance, one-off and annual grants, vocational training grants and business start-up loans.
Employment and career transition services to serving and former officers.