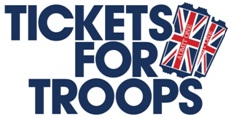 Tickets For Troops was set up in 2009 to provide all serving members of the Armed Forces and those medically discharged since 2001 with free tickets for major sporting events, theatre performances, music concerts and cultural attractions. Over the last five years, the charity has been been donated over 500,000 tickets which have been made available to their 140,000 registered members.
Troops can register at: www.ticketsfortroops.org.uk
Contact Information
6 Lower Grosvenor Place
London
SW1W 0EN

0207 932 0808
Support Offered
Offering troops free tickets for sport, theatre and cultural events.