Waterloo Uncovered
Charity Number: 1168268
Company Number: 09533851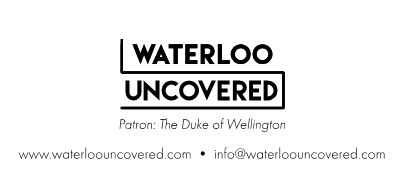 Waterloo Uncovered (WU) is a ground-breaking charity which uses a world class archaeological project exploring the Waterloo Battlefield in Belgium to support veterans and serving personnel in their recovery and health, wellbeing, transition, education and employment. The aims of the charity, as set out in the articles, are to assist veterans and serving personnel by any means possible, to give veterans
the opportunity to participate in the archaeological study of sites of military interest, to provide education and vocational skills training to the public generally, and veterans specially, and to advance the education of the public through archaeology.
Contact Information
Suite 207
Parkway House
Sheen Lane,London
SW14 8LS

Support Offered
Waterloo Uncovered runs a nine-month Veteran Support Programme, aimed at giving veterans (and
serving personnel) from all corners of the United Kingdom and all parts of the Armed Forces a
comprehensive experience of Battlefield Archaeology. This experience brings numerous benefits, both in
supporting the recovery from physical and mental injuries, and in providing the opportunity to explore
archaeology as a possible professional, academic or casual interest in civilian life. The programme is supported throughout by archaeologists, and by professionals and enthusiasts from related disciplines, as well as by a team of Wellbeing professionals who are on hand to ensure that the programme is of maximum value to each participant.