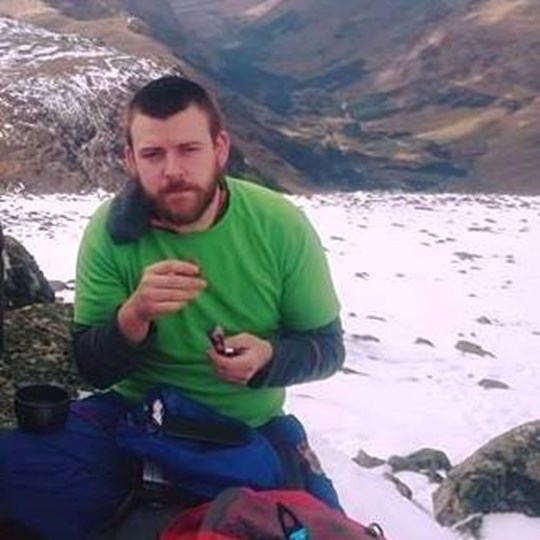 A merchant seaman from Morpeth is training to compete in the 100k Yorkshire walk for Blind Veterans UK, the national charity for vision-impaired ex-Service men and women.
Adam Potts, 27, was convinced to take part in the ultra-challenge by his climbing and hillwalking partners. He explains: "They signed up just last year and asked me if I'd consider joining them. In the end it was an easy decision. I love any kind of new challenge, plus it's a fantastic cause!"
Outside of his long-distance endeavours, Adam is a merchant seaman. He explains: "I worked deep sea across the world for a few years. Fortunately I'm now a bit closer to shore, working throughout Europe, the Middle East and occasionally the Maldives.
"Even then, training has at times been troublesome due to the amount of time I've been at sea! The other guys have been getting the miles in week in week out. Unfortunately I've not had that luxury; I've been largely restricted to walking around the deck of the boat and snatching small walks or runs as often as possible in port!"
He continues: "I'll admit I'm feeling pretty apprehensive, but massively excited at the same time. Fundraising is going well, everyone has been really generous and willing to give, I'm just raring to go now and get myself some bragging points!"
To support Adam, please visit: justgiving.com/Adampotts2017.
Registration for the 100k is currently open with a registration fee of £60 for the 100k. For those not wanting to walk the full distance there is also a relay option available for teams of four walking 25k each. Teams taking part in the relay have a registration fee of £100. The all-inclusive entrance fee for participants includes lunch, dinner and breakfast at three rest stops, snacks and refreshments along the route and a free event t-shirt.
This year, the 100k Yorkshire will follow a stunning new circular route, which starts and finishes in Darley in the beautiful Nidderdale. From there the route follows the River Nidd, goes onto Brimham Rocks, and past Ripley Castle. Trek through the dramatic rural Yorkshire landscape.
To sign up, please visit blindveterans.org.uk/100k.
Blind Veterans UK was founded in 1915 and the charity's initial purpose was to help and support soldiers blinded in the First World War. But the organisation has gone on to support more than 35,000 blind veterans and their families, spanning WWII to recent conflicts including Iraq and Afghanistan. They have set the ambitious target to double the number of veterans receiving its life changing support to over 8,000 by 2022.
For more than a century, the charity has been providing vital free training, rehabilitation, equipment and emotional support to blind and vision-impaired veterans no matter when they served or how they lost their sight. Visit blindveterans.org.uk/support to learn more about the charity and how you can support its vital work today.
For all media enquiries please contact: Felix Arbenz-Caines, PR Assistant, Blind Veterans UK, 12 – 14 Harcourt Street, London, W1H 4HD, E: Felix.Arbenz-Caines@blindveterans.org.uk, T: 020 7616 7941
Notes to Editor
Blind Veterans UK
Blind Veterans UK is a national charity that believes that no-one who has served our country should have to battle blindness alone. Founded in 1915, the charity provides blind and vision impaired ex-Service men and women with lifelong support including welfare support, rehabilitation, training, residential and respite care.
Find out more at: blindveterans.org.uk, follow us on Facebook at: facebook.com/blindveteransuk and on Twitter at: twitter.com/blindveterans.