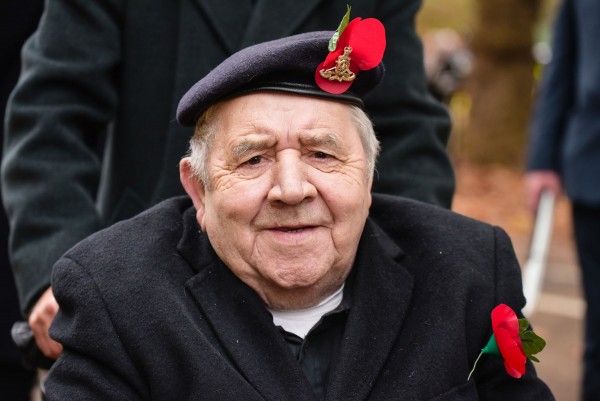 A blind veteran from Merseyside is set to march at the Cenotaph in London this Remembrance Sunday (12/11) with the charity Blind Veterans UK.
Joe, 75 and from St. Helens, will be marching at the Cenotaph in London with more than 100 other blind veterans supported by Blind Veterans UK, the national charity for vision-impaired ex-Service men and women.
Joe, who will be marching for the fifth time, says: "Even before I began marching with Blind Veterans UK, I always watched on TV. It's an incredibly humbling experience, being there, amongst so many fellow veterans. It's very emotional too. That being said it's nice to see so many people supporting such occasions. The entire route is packed on both sides of the road."
Joe himself served in the Royal Artillery from 28 July 1960 to 28 July 1966. He was stationed in Oswestry, Rhyl and Shoeburyness before spending four and a half years in Germany as a driver. He recalls: "My main role in Germany was driving families to the hospital, mainly pregnant women and children for various kinds of appointments."
He continues: "I had bad days but they were certainly outweighed by the good. I got to meet so many people in the regiment, including their wives and children."
It was in 1992, when Joe left the house to take his dog for a walk, that his life would change forever. He explains: "I went out for a walk with my dog and by the time I came back, I was blind in one eye. Within one week, my other eye was the same."
Joe had suffered a blood clot behind the nerve in his eyes, and he describes his remaining vision as severely limited.
In 2011, Joe was informed of the support that Blind Veterans UK provides. He recalls: "A social worker called and told me that I would be eligible given my Service. We filled in the necessary forms and that was it."
Reflecting on the impact that the charity has made to his life, Joe states: "Do you know what, I think I'd be dead without them. They've given me a new life. Before they came along I was having to rely on my wife for all sorts. It was no good for either one of us.
"They've fitted me with a stair lift and that's made my life an awful lot easier. We've been to their training and rehabilitation centre in Llandudno, which was lovely, as well as for some IT training, which was hard!"
Joe is set to march with other vision-impaired ex-Service men and women supported by Blind Veterans UK as part of the national Remembrance Sunday commemorations in London on Sunday 12 November 2017. Specsavers stores across the UK will be fundraising from 6 to 12 November on behalf of Blind Veterans UK to help Joe, and others like him, march at the Cenotaph.
Specsavers has supported Blind Veterans UK since 2012 and, as well as raising money for the charity, has referred a number of customers to them so they can access its support.
Chief Executive of Blind Veterans UK, Major General (Rtd) Nick Caplin CB says: "Remembrance Sunday is always a very poignant time for our blind veterans and it is fantastic that Specsavers are able to support them to get to march at the Cenotaph.
"Today, Blind Veterans UK supports more blind and vision-impaired veterans than ever before in the charity's history and we have set an ambitious target to double the number of veterans we support in the next five years."
Blind Veterans UK is the national charity for blind and vision-impaired ex-Service men and women, providing vital practical and emotional support to help veterans discover life beyond sight loss. The charity estimates that there are currently 59,000 blind veterans that would be eligible to access its specialist support, most of whom are not currently aware of it.
If you, or someone you know, served in the Armed Forces or did National Service and are now battling severe sight loss, find out how Blind Veterans UK could help by calling 0800 389 7979 or visiting blindveterans.org.uk/.
For all media enquiries please contact: Mark Wheeler, PR Manager, Blind Veterans UK, 12 – 14 Harcourt Street, London W1H 4HD, E: mark.wheeler@blindveterans.org.uk, T: 020 7616 7980
Notes to Editor
Blind Veterans UK
Blind Veterans UK is a national charity that believes that no-one who has served our country should have to battle blindness alone. It provides blind and vision-impaired ex-Service men and women with lifelong support including welfare support, rehabilitation, training, residential and respite care.
Find out more at: www.blindveterans.org.uk, and follow us on Facebook at: facebook.com/blindveteransuk and on Twitter at: twitter.com/blindveterans.