Poppyscotland and Legion Scotland today launched a mass movement to say "Thank You" to all who served, sacrificed and changed our world during the First World War. With fewer than 100 days to go until 11th November, the charities are calling on mass involvement from the public to mark the centenary of the end of World War One.
To launch the Thank You movement, a giant installation of eight-foot-high illustrated letters appeared in Dundee's City Square. The public were invited to write their own personal messages of thanks directly on to the installation.
Dundee was chosen for the Scottish launch of Thank You as the city exemplified the collective effort made across Scotland, Britain and the Commonwealth, not only on the front line, but, importantly, on the home front as well.
The city had among the highest enrolment rate of any town in Britain, with an estimated 63 per cent of eligible men signing up. This equated to 30,490; more than 4,200 of whom made the ultimate sacrifice and thousands more who returned with devastating injuries. As a result of the high enrolment rate, women quickly answered the call and entered the many jute and munitions factories, and various engineering works.
Women also took on other roles which had previously been the reserve of men, and Dundee was one of the first cities to see female post office workers and police officers on the beat, and, by 1917, they were employed across the tramway system.
Dundee had long been known as the "women's city", but, during the War, many more women were drafted into the War-time labour force, including hundreds of redundant "fisher lassies" from the fishing towns around the north-east of Scotland and the Island of Lewis in the west.
Speaking at the launch, Dundee Lord Provost Ian Borthwick said: "It is vital that we recognise the contribution of the generation who sacrificed so much. Of course we remember those who selflessly answered the call and served their country so bravely, but the Thank You movement is also an opportunity to recognise the contributions of other groups that are often overlooked. Thousands of Dundonian women took up vital roles in the city's factories, as they did the length and breadth of the country. To them, and so many others who helped changed our world, we say 'Thank You'."
Joining the Lord Provost of Dundee at the launch was local Police Constable Victoria O'Neil and Sarah King, who has just completed her engineering apprenticeship at the Michelin tyre factory in the city. Also in attendance was Dr Billy Kenefick, Chairman of Great War Dundee, a partnership formed to commemorate the First World War and its impact on Dundee.
PC Victoria O'Neil, from the Dundee City Centre Policing Team, said: "It has been inspiring to learn more about the contribution of women during the First World War, and, in particular, to learn that the city was one of the first in Britain to allow female police officers. My Thank You message is to them for their service, and for paving the way for greater equality in the workplace for future generations."
Sarah King, from Michelin, said: "Dundee's jute, munitions and engineering factories played a vital role in the War effort, and, without thousands of women taking on roles in these factories, the War may well have had a very different outcome. Their story is often overlooked and to them I say 'Thank You'."
The letters showcase a unique design by acclaimed artist Sarah Arnett, which brings the War's legacies to life. From the "Munitionettes" who served in weapons factories to Indian infantrymen who served on the Western Front; from schoolgirls farming the fields to renowned war artists such as Paul Nash, a collage of images honours the diverse contribution of the First World War generation.
Everyone is touched in some way by the First World War and the generation who lived through it. The public is being encouraged to say "Thank You" through their family, community, place of work – or simply as an individual. The Thank You movement invites people to explore First World War heritage where they live and find reasons for giving thanks.
Kevin Gray MM, Chief Executive of Legion Scotland, said: "Very few, if any, local communities were left untouched as a result of the First World War. Their generation served at home or on the front line; they sacrificed and their combined efforts changed our world. We owe them two simple words that mean so much and show our gratitude.
"My great uncle was from a small community in Islay; he served with the 1st Battalion Cameron Highlanders. He was 23 years old when he was killed in action in France on the 28th September 1915. He is laid to rest in the Ninth Avenue Cemetery, in Haisnes. 'Thank You' is the very least we should say."
Mark Bibbey, Chief Executive of Poppyscotland, said: "We all have a connection to the First World War, and, for me, it is through both of my grandfathers. My paternal grandfather served in the Royal Welch Fusiliers on the Western Front from 1916 to 1918, while my maternal grandfather was in the Royal Army Service Corps attached to the London Yeomanry and served in Egypt, Gallipoli and Palestine/Sinai. We all have a reason to say 'Thank You' to this special generation.
"To the women who took on dangerous wartime roles in factories; to farmers who gave up their horses to the war effort; to the Macraes and Sassoons whose work has shaped our understanding of conflict; we should indeed say 'Thank You'."
"Whether your personal 'Thank You' is an event dedicated to those who made a difference in your community, a visit to a place of significance, or a simple tweet, there's no limit to the ways people can take part. We are making a plea to every single person across Scotland to get involved and take a moment in this very significant year to say 'Thank You'."
Dr Billy Kenefick, from Great War Dundee, added: "Great War Dundee is honoured to be a part of the Thank You event installed in our city here today. It is a fitting tribute to everyone who supported the War effort and it will grant them the due recognition they deserve."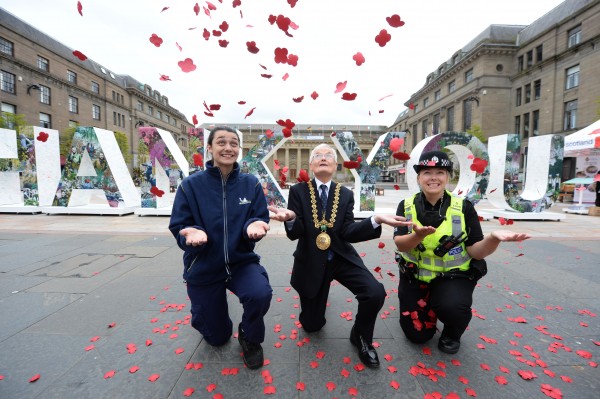 Notes to editors
For further information please contact David A. Findlay, PR Manager at Poppyscotland and Legion Scotland, on 079797 35611, or email at d.findlay@poppyscotland.org.uk.
For further information and to find out how you can get involved in the 'Thank You' movement, please visit www.poppyscotland.org.uk/thankyou. The official Thank You hashtag is #ThankYou100.
Poppyscotland provides life-changing support to the Armed Forces community. Money raised from the Scottish Poppy Appeal and Poppyscotland's year-round fundraising enables them to deliver support to members of the Armed Forces community in Scotland by providing tailored funding and assistance. The charity also funds services in advice, employment, housing, mental health, mobility and respite. Please note that we are known as "Poppyscotland", and not "PoppyScotland" or "Poppy Scotland". For more information, please visit us at: www.poppyscotland.org.uk.
Legion Scotland is the daily use name of the Royal British Legion Scotland, the largest ex-service membership charity in Scotland working at the heart of the community supporting veterans of all ages and from all conflicts. With nearly 153 branches, 63 clubs and more than 26,000 members, Legion Scotland, working in partnership with other organisations, provides veterans in the community with three key services covering remembrance, comradeship, veterans' community support and befriending whilst supporting the welfare services and fundraising initiatives of Poppyscotland.
There are three key areas to Legion Scotland's work, namely: Comradeship: including events, clubs, sports; the Veterans Community Support Service, including a befriending programme, disablement pensions support and advocacy service; and Remembrance, which includes Remembrance events in November and commemorative events across the year, including the Best Kept War Memorial campaign.