Wales is home to around 330 heads of families made up of former Gurkhas, men who have fought for the Crown for more than 200 years and are some of the most respected and feared soldiers in the British Army.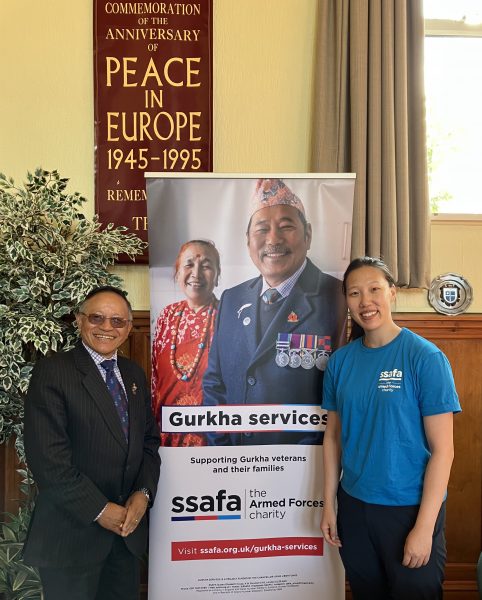 Cwmbran has the largest Gurkha veteran population in Wales, and three individuals and one couple from it accepted an invitation from SSAFA, the Armed Forces charity to have their stories recorded, including how the UK's oldest tri-service charity has supported them.
The interviews and photo shoot, which took place at The Council House in Old Cwmbran, were carried out by Mia Certo – SSAFA's Case Study Manager – and Mr Laxmi Bantawa, SSAFA Gurkha Services Outreach Worker and late the Second Battalion Royal Gurkha Rifles.
Mr Bantawa, who saw active service in the Gulf and the Balkan Wars of the 1990s, provided translation of questions and answers for the interviews. However, even his fluency in English and, naturally, Nepali was tested with one 76-year-old Gurkha veteran.
Nepali is the official and most widely spoken language in the country, where it also serves as a lingua franca, but there are some 38 other languages or dialects in Nepal.
Mr Aita Bahadur Limbu, the 76 year old, is of the Yakthung people, and while there is compatibility with his language – called Yakthungpan – and Nepali, discussion between Mr Bantawa and Mr Limbu took time, highlighting some of the challenges that ex-Gurkhas, especially older ones, face in the UK.
However, some things transcend language. Mr Limbu's descriptive hand gestures and sound effects – everything from helicopters to different types of manual and automatic weapons used – gave all there a vivid depiction of his combat experience, which included Borneo in the 1960s.
Mia said of the day:
"It was a privilege to meet and speak with these veterans, both about their military service and how SSAFA has supported them through our crisis fund and digital inclusion project.

"In learning about the challenges many of these families face and highlighting their stories, we can ensure that SSAFA is best placed and resourced to continue helping others like them.

"I'm particularly grateful to work alongside Mr Bantawa, who is a trusted member of the Nepali community and crucial to SSAFA's work with Gurkha soldiers, veterans, and their families. His connections, like that with Community Chairman Mr Badri Yongya, who helped organise the day, mean that SSAFA is able to serve more people and have greater impact."
Mr Bantawa, a former major who has worked for SSAFA since 2019 said:
"It was a great pleasure to introduce some of my fellow former Gurkhas to Mia and her colleagues. Telling their stories, including of how they have been helped by SSAFA, should be told to a wider audience. In this way the charity can help more of our military community, whether Gurkha or not.

"And yes, Mr Aita Limbu's Yakthungpan did confuse me for few seconds! However, I really enjoyed meeting and working with the new team and listening to senior veterans' stories."
He explained that there are just two Gurkha outreach workers covering England and Wales with 23 and 19 Gurkha communities respectively, and that in the past year he and his counterpart have identified, engaged, and supported nearly 900 individual Gurkhas and their families.
One element of the Gurkha Services most recent work centred around digital exclusion experienced by some members of the Gurkha and Nepali community in Wales and elsewhere.
To address this, tablets – pre-loaded with apps in Nepali – were given to families in several locations including Cwmbran, Brecon, Cardiff, Newcastle, Leeds, Carlisle, Catterick, York, Doncaster, Nottingham, Derby, Liverpool, Bradford, and Manchester.
"Having access to IT in this format," said Mr Bantawa, "gives families and widows of Gurkha soldiers the ability to engage with essential services in the UK, as well as maintaining contact with relatives back in Nepal.

"It is a vital lifeline for so many of them."
For more information on SSAFA's services for Gurkhas – retired or serving – and their families, visit ssafa.org.uk/gurkha-services.