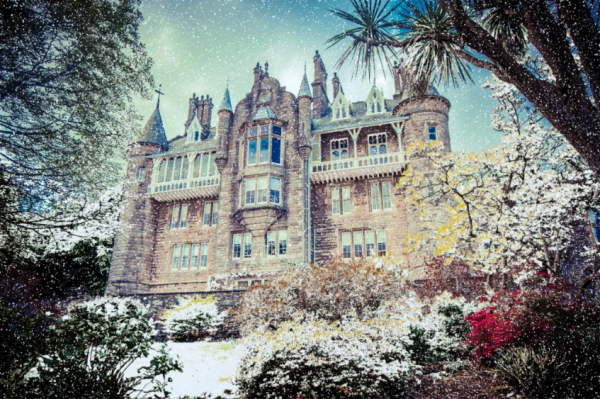 A local military charity is inviting local residents to attend a festive Winter Market at the stunning Chateau Rhianfa in Anglesey.
Blind Veterans UK, the charity for blind and vision-impaired ex-Service men and women, will be providing people with the opportunity to choose the perfect stocking fillers for their nearest and dearest.
Victoria Beech, Regional Fundraiser for Blind Veterans UK, says: "Chateau Rhianfa is as close to a magical fairy-tale castle as you can get. It's the perfect place to visit to get in the mood for Christmas."
Guests will have the chance to peruse an expansive range of woodcrafts, beauty products, textiles, prints, photography, tasty treats and jewellery. For the younger attendees who are short on pocket change, there will be opportunities to hang out with Santa's Elves, with activities including storytelling and games in the grounds.
Families are also invited to relax in the lounge areas to enjoy mulled wine, Afternoon Tea or a delicious Sunday Lunch.
The Chateau Rhianfa Winter Market will take place from 18 – 19 November, from 11am – 4pm. Admission is free. Please note that parking at the venue is limited. A shuttle bus will be leaving from Beaumaris every half an hour from 11am – 3pm. The last bus back from Chateau Rhianfa will depart at 4pm.
Pre-booking for Afternoon Tea and Sunday Lunch with the venue is essential. Contact 01248 880090 for more information.
To find out more contact Victoria Beech on Victoria.beech@blindveterans.org.uk or 01492 864574. You can also visit: blindveterans.org.uk/wintermarket.
Blind Veterans UK was founded in 1915 and the charity's initial purpose was to help and support soldiers blinded in the First World War. But the organisation has gone on to support more than 35,000 blind veterans and their families, spanning WWII to recent conflicts including Iraq and Afghanistan. They have set the ambitious target to double the number of veterans receiving its life changing support by 2022.
For more than a century, the charity has been providing vital free training, rehabilitation, equipment and emotional support to blind and vision-impaired veterans no matter when they served or how they lost their sight. Visit blindveterans.org.uk/support to learn more about the charity and how you can support its vital work today.
For all media enquiries please contact: Felix Arbenz-Caines, PR Assistant, Blind Veterans UK, 12 – 14 Harcourt Street, London W1H 4HD, E: Felix.Arbenz-Caines@blindveterans.org.uk T: 020 7616 7941
Notes to Editor
Blind Veterans UK
Blind Veterans UK is a national charity that believes that no-one who has served our country should have to battle blindness alone. Founded in 1915, the charity provides blind and vision impaired ex-Service men and women with lifelong support including welfare support, rehabilitation, training, residential and respite care.
Find out more at: blindveterans.org.uk, follow us on Facebook at: facebook.com/blindveteransuk and on Twitter at: twitter.com/blindveterans.