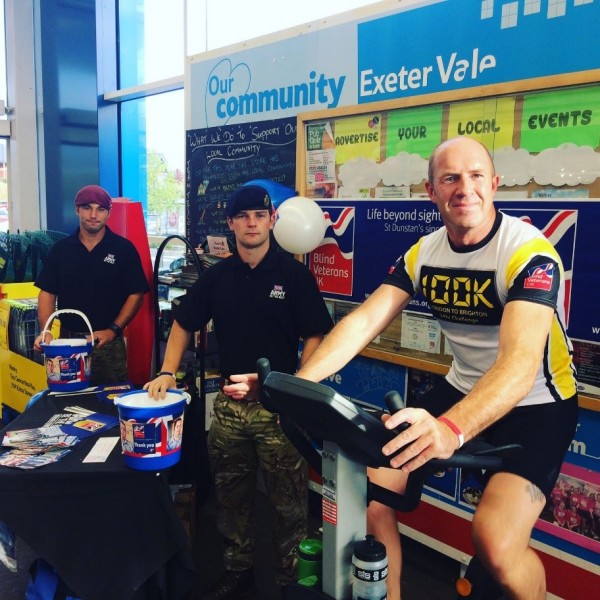 A military charity that supports blind and vision-impaired ex-Service men and women is on the hunt for a team of volunteers in the Oxfordshire area to help generate local fundraising ideas and reach out to more veterans in the area.
Blind Veterans UK currently supports over 4,500 vision-impaired veterans, more than any time before in the charity's history. It has set the ambitious target of doubling the number of veterans receiving its life changing support by 2022.
The charity will be hosting a stand at Castle Quay Shopping Centre in Banbury on 24 August from 09:30 – 16:30 and will be happy to speak to anyone who is interested in giving up a bit of their time for a very worthy cause.
Penny Prince, Community Fundraising Officer at Blind Veterans UK, says: "Blind Veterans UK will be growing a lot over the next few years and we will also be doing more of our work in the local community.
"We want to mirror this in our fundraising activity and are looking for local people in the area to come up with some great ideas. We also want to reach out to all the potential blind veterans in the area who don't currently know that they're entitled to our support.
"By creating a small team of volunteers who know the local area we can harness their knowledge and great ideas."
Anyone who is interested in volunteering with Blind Veterans UK should contact Penny Prince on penny.prince@blindveterans.org.uk or 07788 725408.
Blind Veterans UK was founded in 1915 and the charity's initial purpose was to help and support soldiers blinded in the First World War. But the organisation has gone on to support more than 35,000 blind veterans and their families, spanning WWII to recent conflicts including Iraq and Afghanistan.
For more than a century, the charity has been providing vital free training, rehabilitation, equipment and emotional support to blind and vision-impaired veterans no matter when they served or how they lost their sight. If you, or someone you know, served in the Armed Forces, including National Service, and is now battling severe sight loss, find out how Blind Veterans UK could help by calling 0800 389 7979 or visiting blindveterans.org.uk/noonealone.
For all media enquiries please contact: Mark Wheeler, PR Manager, Blind Veterans UK, 12 – 14 Harcourt Street, London W1H 4HD, E: mark.wheeler@blindveterans.org.uk, T: 020 7616 7980
Notes to Editor
Blind Veterans UK
Blind Veterans UK is a national charity that believes that no-one who has served our country should have to battle blindness alone. Founded in 1915, the charity provides blind and vision impaired ex-Service men and women with lifelong support including welfare support, rehabilitation, training, residential and respite care.
Find out more at: blindveterans.org.uk, follow us on Facebook at: facebook.com/blindveteransuk and on Twitter at: twitter.com/blindveterans.