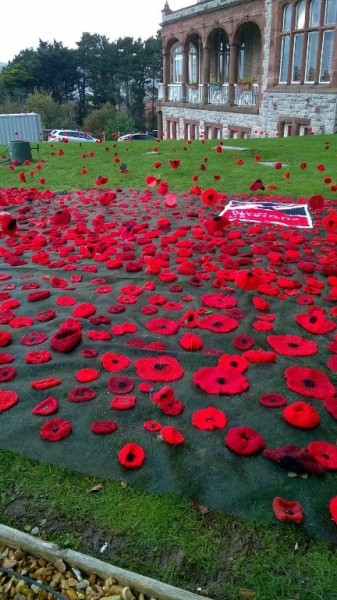 A military charity is inviting local residents to join them for a coffee morning featuring an opportunity to remember the fallen with a two-minute silence on Armistice Day.
Blind Veterans UK, the charity for blind and vision-impaired ex-Service men and women, will be welcoming members of the public to its training and rehabilitation centre in Llandudno.  Following the two-minute silence, there will be a special performance of the national anthem by Welsh concert soprano, Gwawr Edwards.
The event will take place on Saturday 11 November from 10:00 to 12:00. At 10:45, the traditional bugle call, The Last Post, performed by blind veteran and Llandudno Town Crier, Billy Baxter. Visitors will also be invited to view the charity's spectacular tribute display, The Poppy Field Project.
Steve Boswell, Centre Manager, says: "Blind Veterans UK is an important part of the local community and any opportunity we have to engage with the wider public is something we relish in.
"This is the first year we are actively inviting local residents to join us in our Armistice Day Commemorations. We're looking forward to them joining us in paying our respects to those brave men and women who have made the ultimate sacrifice for our country."
A selection of homemade cakes and refreshments will be available in exchange for donations, as well as poppy-making art and craft activity.
It is advised that visitors dress appropriately for the weather as the Commemoration will take place outside. Admission is free of charge. All funds raised will go to Blind Veterans UK's Llandudno centre. Visitors will also be given the opportunity to make a donation to The Royal British Legion.
For more information, contact Victoria Beech, Regional Fundraiser on Victoria.beech@blindveterans.org.uk or 01492 864574.
Blind Veterans UK was founded in 1915 and the charity's initial purpose was to help and support soldiers blinded in the First World War. But the organisation has gone on to support more than 35,000 blind veterans and their families, spanning WWII to recent conflicts including Iraq and Afghanistan. They have set the ambitious target to double the number of veterans receiving its life changing support by 2022.
For more than a century, the charity has been providing vital free training, rehabilitation, equipment and emotional support to blind and vision-impaired veterans no matter when they served or how they lost their sight. Visit blindveterans.org.uk/support to learn more about the charity and how you can support its vital work today.
For all media enquiries please contact: Felix Arbenz-Caines, PR Assistant, Blind Veterans UK, 12 – 14 Harcourt Street, London W1H 4HD, E: Felix.Arbenz-Caines@blindveterans.org.uk, T: 020 7616 7941
Notes to Editor
Blind Veterans UK
Blind Veterans UK is a national charity that believes that no-one who has served our country should have to battle blindness alone. Founded in 1915, the charity provides blind and vision impaired ex-Service men and women with lifelong support including welfare support, rehabilitation, training, residential and respite care.
Find out more at: blindveterans.org.uk, follow us on Facebook at: facebook.com/blindveteransuk and on Twitter at: twitter.com/blindveterans.