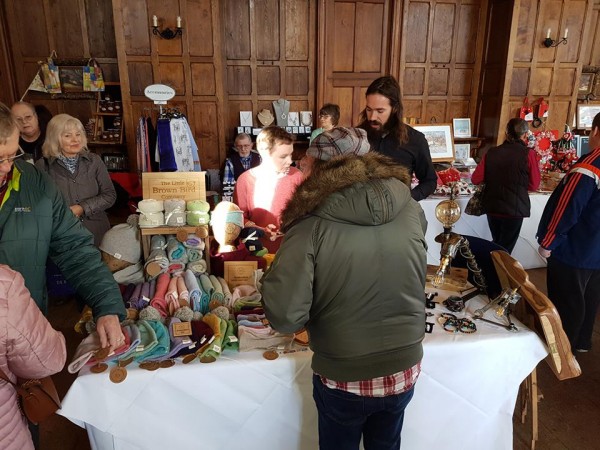 A military charity is inviting locals to attend an Artisan Craft Fair at Chateau Rhianfa.
Local artisans will be joining Blind Veterans UK, the charity for blind and vision-impaired ex-Service men and women, to exhibit a selection of unique crafts and products from around North Wales. The event will take place on both March 3 and March 4, from 11am to 4pm.
Victoria Beech, Blind Veterans UK Regional Fundraiser, says: "We're excited to be returning to Chateau Rhianfa following our hugely successful Winter Market in November. The visitors were particularly impressed by both the quality and variety of hand-crafted items on offer, and for this reason we'll be focusing on artisan products this time round."
With North Wales known for its wealth of Artisan Crafts, this event will provide guests with the perfect opportunity to discover some truly unique items, including hand-crafted wood and textiles, prints and jewellery, including original silver designs. With Mother's Day taking place just days after the fair, guests will be able to choose something truly special for their nearest and dearest.
While not perusing the wealth of crafts on offer, guests will be able to explore the venue's stunning grounds and enjoy some breath-taking views over the Menai Straits. There will also be a quiz trail in the grounds perfect for younger visitors and grown-ups alike, with the chance to win £20 in One4all gift vouchers.
The Artisan Craft Fair takes place at the Chateau Rhianfa on March 3 and 4 from 11am to 4pm. Admission is free and there will be a free shuttle bus from Beaumaris, at a pick-up point located behind the Buckley Hotel, on the half hour from 11am to 3:30pm. The last bus from Chateau Rhianfa will depart at 4pm. Any donations to Blind Veterans UK would be gratefully received.
For more information, please contact Victoria.beech@blindveterans.org.uk or 01492 864574.
Blind Veterans UK was founded in 1915 and the charity's initial purpose was to help and support soldiers blinded in WWI. But the organisation has gone on to support more than 35,000 blind veterans and their families, spanning WWII to recent conflicts including Iraq and Afghanistan.
For more than a century, the charity has been providing vital free training, rehabilitation, equipment and emotional support to blind and vision-impaired veterans no matter when they served or how they lost their sight. Visit blindveterans.org.uk/support to learn more about the charity and how you can support its vital work today.
For all media enquiries please contact: Felix Arbenz-Caines, PR Assistant, Blind Veterans UK, 12 – 14 Harcourt Street, London W1H 4HD E: Felix.Arbenz-Caines@blindveterans.org.uk, T: 020 7616 7941
Notes to Editor
Blind Veterans UK
Blind Veterans UK is a national charity that believes that no-one who has served our country should have to battle blindness alone. Founded in 1915, the charity provides blind and vision impaired ex-Service men and women with lifelong support including welfare support, rehabilitation, training, residential and respite care.
Find out more at: blindveterans.org.uk, follow us on Facebook at: facebook.com/blindveteransuk and on Twitter at: twitter.com/blindveterans.