Military charity Blind Veterans UK has come to the aid of one of its beneficiaries in Suffolk who was unable to secure an online delivery spot from his supermarket.
David Gant, an 80-year-old Army veteran from Stowmarket, is 'black-blind', meaning that he has no sight whatsoever and relies on wife Jean for his care.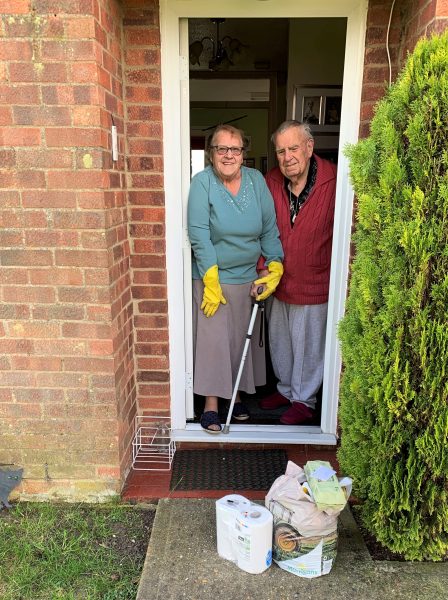 David's multiple health conditions and reliance on Jean means that the married couple of 56 years are 'cocooning' themselves for the next three months during the Covid-19 outbreak.
David says:
"We normally get our shopping delivered but there was nothing available with our local supermarket for the next two weeks.

"I got in touch with my Community Support Worker at Blind Veterans UK, Sallie-Ann, who was round the next day with the shopping, of course staying at a safe distance at all times. I can't say thank you enough, we're so grateful."
On the Covid-19 crisis, David says:
"My wife is worried sick but I'm of the opinion that if we do what's asked of us, we'll get through this."
David joined the Royal Army Medical Corps in 1960 and served in Hong Kong as a private. It was later in life at the age of 41 that he was diagnosed with Retinitis Pigmentosa which caused a steady decline in his eyesight until he became black-blind.
Luckily David found out about Blind Veterans UK in 2014 and has been supported by the charity ever since. He says:
"Blind Veterans UK gave me my independence back. By training me up on various gadgets I'm now able to do things like read books and make a cup of tea by myself. They might seem like small things but when you're blind, they make a huge difference.

"They even gave me 'talking scales', which helped me lose three stone in weight and get my blood sugar level down enough not to need insulin. My wife already does so much for me so I was determined not to give her more work and the scales played a huge part in making that happen."
Blind Veterans UK has adapted its service to support its 5,000 beneficiaries, 90% of whom are over 70 and thus being advised by the Government to self-isolate. The National Support Service will help blind veterans through this period of social isolation.
Nicky Shaw, Blind Veterans UK Director of Operations said:
"Having to self-isolate, blind veterans need our help right now with daily tasks, such as the shopping, and constant emotional support through this difficult time. So we are temporarily changing our service and mobilising our staff to provide practical, essential support to help the most vulnerable."

"There is so much that we can and must do to support blind veterans to help them maintain physical and emotional wellbeing, and to feel safe, reassured and cared for during this crisis."
You can keep updated on Blind Veterans UK's response to Covid-19 at blindveterans.org.uk/coronavirus where you can also find out more about supporting the charity to make this new service possible.
Notes to Editor
Blind Veterans UK helps vision-impaired ex-Service men and women of every generation rebuild their lives after sight loss. Since 1915, we've provided rehabilitation, training, practical advice and emotional support to tens of thousands of blind veterans.
Find out more at: blindveterans.org.uk and follow us on Facebook at: facebook.com/blindveteransuk and on Twitter at: twitter.com/blindveterans.
For all media enquiries please contact:
William Witt – PR & Communications Executive 07599 556664 / william.witt@blindveterans.org.uk