"Without the help of SSAFA, we'd have been on the streets."
Exemplifying the work SSAFA, the Armed Forces does with all sectors of the military community comes a recent story from the Merseyside branch and the support it gave to a veteran in the criminal justice system (VCJS).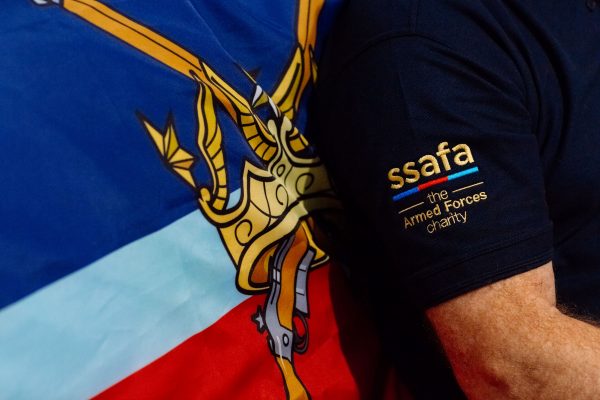 Tom Kingsman* was serving the last few weeks of his sentence in North Wales, and had disclosed to staff there – including his probation officer – that he was a veteran of UK Armed Forces.
SSAFA has a network of in-reach volunteers for VCJS, volunteers who provide advice and information, not only to those in custody, on probation or in the community, but also to their families.
The support offered is non-judgemental and holistic and includes:
Practical and emotional support
Signposting to services
Financial support
Family support
Travel assistance
Accommodation
The SSAFA Merseyside VCJS caseworker Mark Rahaman met with Tom in prison. Here, Mark was told that Tom's rented home in Liverpool was due to be re-possessed because of arrears, and he and his son would be homeless.
Mark takes up the story, saying:
"The rent arrears where considerable, just shy of £4,500. It's best not to think about the effect that this would have had on Tom, and of course his son, and this is where SSAFA stepped in.

"SSAFA's VCJS support service is committed to giving veterans and their families a service that delivers, and our aim is to ensure that we offer a recognised – and all credit to the probation officer who knew about us – and consistent service nationwide while meeting our five strategic objectives, which are: effective support, awareness and understanding, sustainable use of resources, and collaborative working."
Mark explained that after he investigated the details of Tom's case, it was submitted for consideration to his regimental association, as well as other military charities.
"It was a good result for Tom," adds Mark, "as the association and charities offered the required assistance to clear the total rent arrears as well as granting some funds for clothing.

"This got Tom and his son out of a bad financial place, and hopefully gives Tom a good chance to start his life over again now he's back on the outside."
Tom added:
"Without the help of SSAFA my son and I would've been on the streets, we'd also have lost all are possessions as we would not have had a place to store anything not to mention the cost.

"Mark Rahaman and his colleagues have really helped a veteran in need, I never realised the help is out there, Thank God I spoke to someone about my problem, and they put me in touch with Mark who then spent a lot of time on my behalf to help me keep my flat. Thank you so much SSAFA and all the brilliant work your volunteers do and continue to do for us veterans."
For more information about SSAFA's VCJS support service, visit ssafa.org.uk/veterans-in-the-criminal-justice-system.
For more information on local help in the Liverpool area, visit ssafa.org.uk/merseyside.