Sherwood Forest Hospitals NHS Foundations Trust (SFH) invited the nation's oldest tri-service military charity SSAFA, the Armed Forces charity, to their veterans event.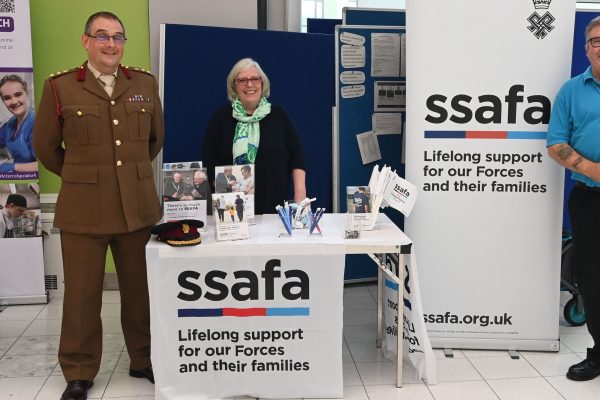 SFH is part of the Armed Forces Covenant and is committed to providing the best possible support for veterans and serving personnel, not only in the care being provided by the Trust but also in employment opportunities.
Colonel Kelvin Wright, Commanding Officer of the Hospital Support Regiment, and specialist Consultant in ICU, was in attendance and talking to members of staff and patients about their experiences in the Armed Forces and in receiving treatment in the NHS.
Kelvin said:
"Armed Forces Week is a very important time for all of our armed forces personnel and to be able to stand with SSAFA and raise awareness of the support they provide was great. SFH have committed to providing the individual care that many of our veteran's require after serving and promoting careers available in the NHS for veterans and reservists alike.

"Talking to many colleagues this week I have met veteran Sherwood Foresters, Tank Regiment veterans, Navy Falklands veterans and many others. It is truly humbling to see the level of armed forces commitment within the trust and to see that reciprocated by the local community with their efforts around Armed Forces Day, and most importantly during Remembrance."
Sarah Harris, Regional Fundraising Officer for SSAFA spoke at the event about what Armed Forces week means and SSAFA's new partnership with SFH.
Sarah said:
"I want to thank Sherwood Forest hospitals for inviting SSAFA along to their Armed Forces Week celebration. During the day I spoke to many staff and patients about how SSAFA works and the support we can provide to our Armed Forces veterans and personnel.

"The opportunity to raise awareness of how the Trust is working to support veteran's and serving personnel was superb. Both SSAFA and Sherwood Forest Hospitals partnership is one that will hopefully raise awareness of the support that is available across the local community."