The Veterans Charity were extremely proud to welcome the Minister for Veterans Affairs, Johnny Mercer MP together with the MP for North Devon, Selaine Saxby, to their office on Friday 27 January.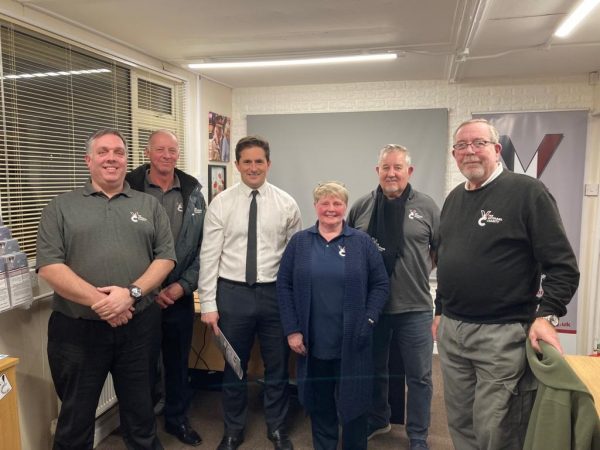 The minister spent time talking with the charity's CEO and some of the wonderful volunteers, learning more about how the charity delivers rapid support to Veterans all across the UK, who find themselves in hardship. Johnny asked lots of questions about the charity's processes and collaborations with many other organisations across the sector.
Selaine has supported several of The Veterans Charity's events in the past including completing the awe-inspiring 30-mile Day 3 of The Forces March 2022. As Selaine found out, this is no mean feat but she showed great determination and completed the full 30 miles from West Bagborough to Somerton and raised several hundred pounds for the charity too.
The charity's team thoroughly enjoyed the visit and were very proud to have been able to tell both Johnny and Selaine some fabulous news that was received earlier in the day – thanks to funding from The National Lottery Community Fund, work can begin on creating 'The Veterans Depot'; North Devon's first dedicated space for Veterans support!
The Veterans Depot will be a fantastic facility based within our site at VCHQ and will host events including breakfast clubs, drop-ins, coffee mornings, support meetings in collaboration with other organisations, art and activity sessions and more. Perhaps best of all is that The Veterans Depot will be built by Veterans and will be a great asset to the North Devon community.
The Minister for Veterans Affairs, Rt Hon Johnny Mercer MP said
"I was delighted to visit The Veterans Charity in North Devon and to meet the inspiring people who have put so much hard work into supporting veterans in hardship. They are an amazing example to us all of what can be achieved and I am grateful to be able to thank them in person. Brilliant visits like this, fuel my fire to continue the work in Government to support our veterans in all their needs as well as support vital charities".
Danny Greeno, CEO of The Veterans Charity said
"We were delighted to welcome Johnny and Selaine to VCHQ. Johnny has been aware of our work for a long time and to be able to talk in more detail about how we deliver support to Veterans in hardship was great. It was also pleasing to hear more about the plans for Op Fortitude and to look at how The Veterans Charity can play a role. Johnny's enthusiasm for supporting his fellow Veterans is inspiring. Selaine has been a passionate supporter of the charity and was clearly excited at the prospect of North Devon being able to play it's part in supporting our Veterans."