Meet Monty Halls – Former Royal Marine and author of "Commando: The Inside Story of Britain's Royal Marines", accompanying a major BBC series on 27 May.
About this event
There is only one colour that matters, one that unites us all. And that colour is green.
The Royal Marine Commandos have become a byword for elite raiding skills and cutting-edge military operations. They are globally renowned, yet shrouded in mystery.
With unique insight and authority, Commando captures the essence and heart of this revered military unit then and now, exploring their role patrolling the high seas and policing coastlines around the globe, and revealing their rich history and what it means to win and wear the legendary green beret.
With full and exclusive access to every level of the organisation, author and former Royal Marine Monty Halls tells the real stories of extraordinary individuals through a period of historic global unrest: from Future Commando forces on high-profile drug busts to Mountain Leaders training across glaciers north of the Arctic Circle, from medics who serve as global first responders in conflict to wounded veterans raising vast sums to support their brethren in the Corps Family.
These are the modern vanguard of a legendary unit, descendants of the misfits and eccentrics who were so effective and feared in WW2 that Hitler famously ordered them to be shot on sight.
Accompanying a major BBC series on the 40th anniversary of the Falklands War, Commandos is an unforgettable glimpse into a rarefied world of danger, drama and valour.
"A truly incredible collection of stories of true heroism." – Bear Grylls

"A barnstorming account of heroism and fortitude from individuals who epitomise the Commando ethos. It's a splendid read." – Sir Ranulph Fiennes

"Monty brings us a glimpse of what the green beret really means and the bonds it creates." – Dan Snow

"This book is the epitome of those Commando qualities – courage, determination, unselfishness and cheerfulness in the face of adversity." – Aldo Kane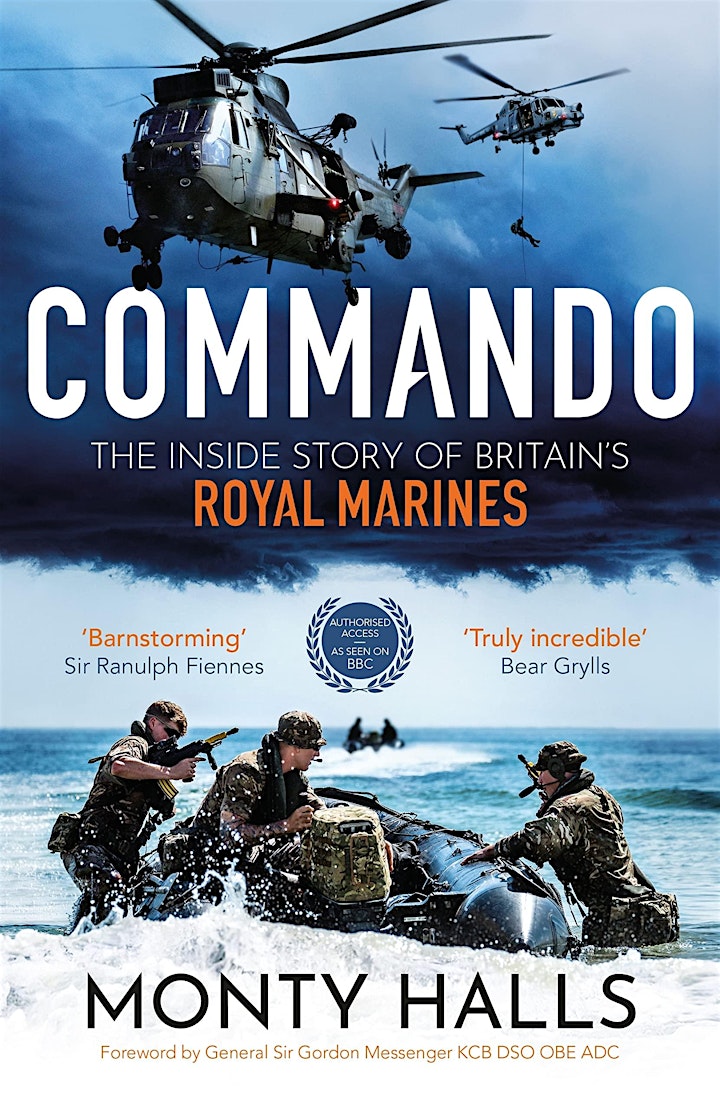 About Monty
Monty Halls is a former Royal Marines Officer who served for over a decade.
His subsequent career as an expedition leader, broadcaster and travel writer, saw his travels continue around the world.
He is based in South Devon, where he runs Seadog – an adventure and wildlife production company. His ties to the Royal Marines remain as strong as ever, and he is a passionate supporter of the RM Charity in their efforts to raise funds for the veteran community.
He is married to Tam and has two daughters Isla and Molly – the latter being the only team he's worked with that continues to bamboozle him.
Monty has also appeared on our podcast Land, Sea and Air: Stories from the Armed Forces
Live Talk
Monty will give us the inside story of Britain's Royal Marines.
Hosted by Company of Makers' co-founder Steve Bomford.