A cycling event in the Highlands that raised £800 last year for Armed Forces charity Poppyscotland is to return next month – and will be bigger and better than before. The Moray Poppy Ride is organised by husband and wife Mervyn and Lindsey Stanley and sees riders undertaking a 50-mile social cycle from Elgin to Lossiemouth; a route which takes in many of Moray's war memorials. And new for this year is a second route with 13 extra miles and more climbs for the more advances riders.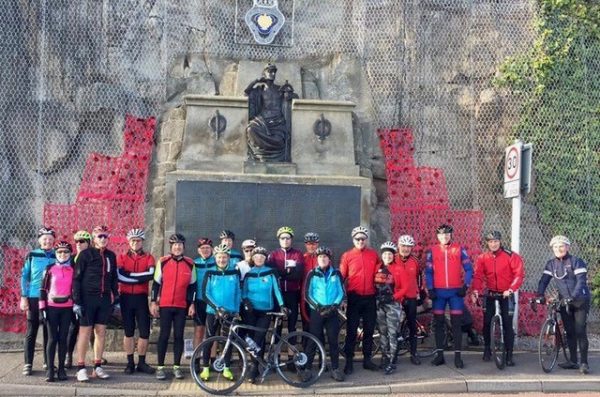 Mervyn, who is the managing director of a local business consultancy, explained how the event came about:
"I wanted to do something for Poppyscotland in Moray, after really enjoying taking part in the charity's annual Sportive event in East Lothian a couple of years ago. I was delighted that 85 riders participated in 2018 and £800 was raised for Poppyscotland."
Mervyn says he and Lindsey, who now live in Elgin, feel a great affinity with the Armed Forces, as he explains:
"We used to live in Lossiemouth so have always had a strong link with the military; the RAF in particular. I also wanted to do something in remembrance of the sacrifice my grandfather made. I look at the picture of him and it's rather poignant to think that it was taken just three days before he left for Dunkirk. He was in the Seaforth Highlanders and died from injuries sustained at Dunkirk."
And now the couple are keen to encourage other cycling enthusiasts to get on board and join this year's Moray Poppy Ride:
"It's a great route, with great company for a great cause! Oh, and the great beer at the end of the ride courtesy of our friends at the Windswept Brewery is worthy of a mention, too!"
Gordon Michie, the Head of Fundraising at Poppyscotland, said:
"The Moray Poppy Ride organised by Mervyn and Lindsey is a brilliant event that brings people together to do something fun, while also raising much-needed funds to support the Armed Forces communities across the country, including in the Highland and Islands. To launch an event and raise £800 in the first attempt is an incredible effort, and we would wish all of those taking part this year the very best of luck."
The Moray Poppy Ride takes place on Saturday 2 November, starting in Elgin at 8:30am. It is £10 to enter and the event is open to club and non-club cyclists alike. For more information and to sign up to take part, please visit www.eventbrite.com/e/moray-poppy-ride-tickets-75047931383.
For further information and all media enquiries, please contact David A. Findlay, PR Manager at Poppyscotland, on 079797 35611, or email at d.findlay@poppyscotland.org.uk.
Poppyscotland provides life-changing support to the Armed Forces community. Money raised from the Scottish Poppy Appeal and Poppyscotland's year-round fundraising enables them to deliver support to members of the Armed Forces community in Scotland by providing tailored funding and assistance. The charity also funds services in advice, employment, housing, mental health, mobility and respite. Please note that we are known as "Poppyscotland", and not "PoppyScotland" or "Poppy Scotland". For more information, please visit us at: www.poppyscotland.org.uk.