The Armed Forces Covenant Fund Trust (the Trust) has supported 119 veteran-focused projects worth £2,044,698 under the Veterans' Should Not Be Forgotten programme.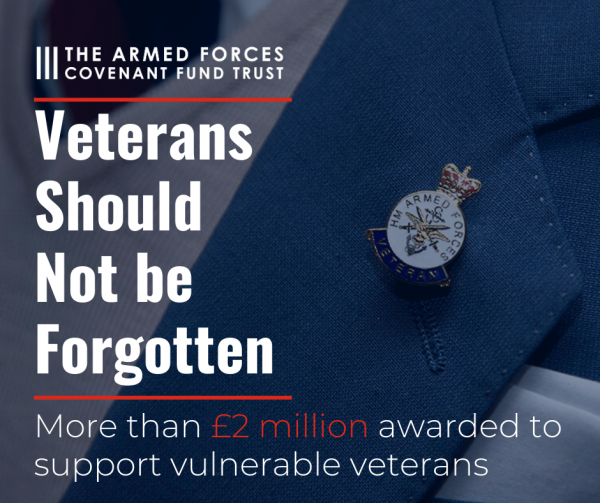 Part of the Veterans' Mental Health and Wellbeing Fund, funded by HM Treasury, the Trust worked closely with the Association of Drop-In Centres (ASDIC), Age UK and Cobseo to ensure those organisations working with the most vulnerable veterans had the opportunity to apply for up to £20,000 to provide support.
Great variety of provision supported
The Trust received a huge response – a testament to the excellent support that is available for those most in need in our veteran community.
Funded support will include using digital technology to stay connected, bringing essential items to those having to shield, providing activities that can be done at home and 'checking in' with those who are alone to combat loneliness.
Responding to veterans' needs
The VC Gallery received £20,000 through the programme to deliver 'Project Lifeline'. Steph Cross, Project Manager for the group explains:
"We were absolutely delighted to have been awarded funding through the Veterans Should not be Forgotten programme. Our workload has increased due to Covid-19 and we have had to respond in different ways to the needs of our veterans. We offer befriending services, practical help with deliveries and vital signposting knowledge. We are working in collaboration with other organisations to get the best results for our members across Pembrokeshire and welcome communication from any ex-Forces personnel at any time."
Chief Executive of the Trust, Melloney Poole, said:
"This vital programme offered funding for some of the most vulnerable in our Armed Forces community, when it was most needed. Organisations have shown us the strong connections they have built with their local veterans and the various ways they are able to offer the support that is needed. To say we were proud to hear about the excellent work taking place is an understatement – we feel privileged to have been able to support so much positive work."
Find out more
Full details of who was awarded through the Veterans Should Not Be Forgotten Programme are available on the Trust's website www.covenantfund.org.uk