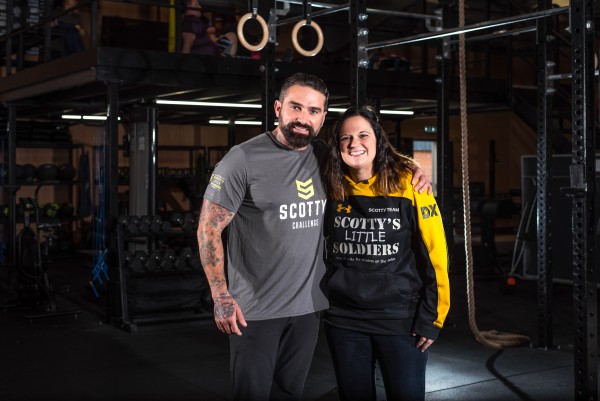 NEW CHARITY CHALLENGE AIMS TO RAISE THOUSANDS FOR BEREAVED ARMED FORCES CHILDREN ACROSS THE UK
Special Forces veteran and TV star, Ant Middleton, put his military fitness to the test this week as he officially launched the first ever SCOTTY Challenge, all in aid of Scotty's Little Soldiers – a national charity which supports children who have lost a parent while serving in the British Armed Forces and works to help them smile again.
Promoting both friendly and fierce competition, the gruelling fundraising CrossFit workout has been designed to put even the ultra-fit Ant Middleton's through their paces, and all in the name of charity.
The Mutiny and SAS: Who Dares Wins front man was given a taster of what the challenge involves at CrossFit Colchester.
He said: "The SCOTTY Challenge is good fun but will definitely put the participants through their paces, the challenge will really appeal to those with a competitive streak and it's great that they can compete with one another whilst raising money for Scotty's Little Soldiers.  The work that Nikki Scott and the charity do to help these children to smile again is invaluable so I would ask anyone who enjoys a good workout to get behind this campaign and take part, make your work out mean something and raise money whilst doing it."
The aptly named, SCOTTY Challenge opens for registrations today and will run for three months from 1st June until 30th September 2017.
Featuring a competitive online leader board, each participant can keep a track of their progress while raising some much-needed funds.
The challenge comprises of 12 exercises, all to be completed in the fastest time possible. These include: a one mile run, 100 slams, 100 squat jumps, 100 clean and press, 100 step ups, 100 shoulder to overhead, 100 walking lunges, 100 pull throughs, 100 bag over shoulder, 100 alternating squat thrusts, 100 burpees and a final one mile run, all to be done with a weighted bag.
To enter, challengers pay a £10 registration fee, which goes directly to charity, and are asked to continue fundraising for Scotty's where possible throughout the challenge period.
Once entered, participants can upload their time on to the leader board, allowing them to challenge friends and track rival gyms. The aim is to create competition and a battle for the number one spot for CrossFit fans around the world, through the SCOTTY Challenge online rankings.
There will be various prizes up for grabs, including one for the fastest time, male and female, and one for the most funds raised.
Founded by war widow, Nikki Scott in 2010, Scotty's Little Soldiers was set up in memory of Corporal Lee Scott, husband and father, who was killed in Afghanistan in 2009.
The charity is dedicated to helping children who have lost a parent in the Armed Forces through the hard times and providing them with the support they desperately need.
Nikki said: "I am so excited about the SCOTTY Challenge and I can't thank Ant enough for his support in getting behind the campaign and the charity, it really means a lot. I know how passionate the CrossFit community is in this country, especially within the army, so if everyone who signs up puts their energy into raising money as well as competing it will make an enormous difference to the work we do. We now support almost 300 hundred children across the country, which just keeps going up and up, so the more funds we raise the more we can do to support every single child."
The SCOTTY Challenge is open for registrations now, to enter visit www.thescottychallenge.com
For more information on Scotty's Little Soldiers please visit www.scottyslittlesoldiers.co.uk
-Ends-
Notes to editors
To speak to a member of the Scotty's Little Soldiers team, please contact Scotty's national PR agency: Claire Grew (claire@wolfstarconsultancy.com) or Chris Grayson (chrisg@wolfstarconsultancy.com) 0113 273 7816
About Scotty's Little Soldiers
Scotty's Little Soldiers, founded in 2010, honours Corporal Lee Scott's memory – both as a loyal soldier and a loving father – and provides a practical yet personal way for the public at large to show their appreciation for those brave individuals who make the ultimate sacrifice in the service of their country. Currently Scotty's Little Soldiers supports 286 bereaved children and runs a variety of programmes to help children smile again and look forward to a brighter future. You can visit the charity online at http://www.scottyslittlesoldiers.co.uk/