Veterans' charity, Launchpad has received a welcome boost of almost £10,000 from the National Lottery Fund to provide emergency support to its residents during the Covid-19 pandemic.
While the country is in lockdown and the Government has encouraged people to self-isolate, these are difficult times for the 80 veteran residents, many of whom are already vulnerable and struggling with their mental health and wellbeing.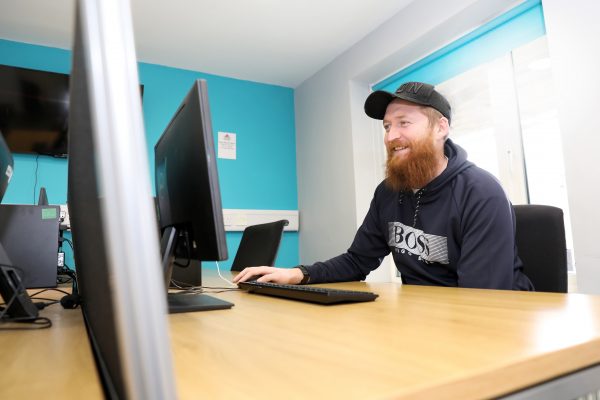 Launchpad provides accommodation and support to help homeless veterans stabilise their lives and make a successful transition from military to civilian life. The charity has two houses: Speke House in Liverpool accommodating 48 residents in self-contained flats and Avondale House in Newcastle-upon-Tyne, which comprises 32 self-contained one-bedroom flats.
The funding from The National Lottery Community Fund, which distributes money raised by National Lottery players for good causes and is the largest community funder in the UK, will contribute towards staffing costs, IT equipment and other necessary activity. 
While most residents are self-isolating, the life they have become accustomed to has almost been cut off. The communal areas within the houses are closed so they have to stay in their flats to self-isolate, except for daily exercise and essential shopping. Visible staffing has also been reduced with only one member of staff on site and there is no face-to-face contact with partners and each other except in an emergency; however, all staff are involved in planning post-pandemic activity and in supporting the veterans remotely
Each house would normally have four support staff on-site and the large, open-plan communal areas are where the veterans receive peer support but due to Covid-19, restrictions have been put in place.
The funding will contribute towards support with the costs of the two members of staff who are maintaining daily contact with the most vulnerable residents. Laptop computers will be provided to staff working remotely and tablets will be purchased for residents who are most seriously affected to encourage contact and ensure they are maintaining personal hygiene, cooking and cleaning.
Some residents don't have televisions in their flats so those will be purchased and provided to residents with no entertainment during the lockdown period.
David Shaw, CEO and Founder of Launchpad, commented:
"These are very challenging times for everyone including our residents, many of whom are very vulnerable. Adapting to a different way of life and routine has had an initial detrimental effect on their mental health. Our staff are contacting residents daily to check on their wellbeing and to ensure we all get through this strange period in good heart.

"We are very grateful to The National Lottery Community Fund Awards for All for providing us with this grant, which will enable us to invest in equipment and encourage regular contact and support to residents. Although they [residents] have told us video contact and phone contact is not as good as being together, they still agree that it is much better than total isolation.

"I am also very proud of two of our longer-term residents who are volunteering for the NHS and for a local charity."
Last year, Launchpad supported 157 veterans and has helped 461 veterans since 2013. 42% of residents left Launchpad with jobs. 69% successfully moved on to settled accommodation, either living independently, reunited with family or with the support they needed.
For more information on this press release, please contact Craig Downs from Up North Communications on 0191 300 0810, 07811 287 922 or email craig@upnorthcommunications.co.uk
Notes to Editors:
AF&V Launchpad Limited (known as Launchpad) is a registered Charity Number 1153185 and Company Number 8633047.
For more information about Launchpad, please visit www.veteranslaunchpad.org.uk
Launchpad welcomes donations to support its veterans, through its website
Key partners that Launchpad work with are: Liverpool City Council, Newcastle City Council, Big Lottery, ABF The Soldiers' Charity, Royal British Legion, Veterans' Foundation, Forces Employment Charity, Addaction, Crisis Skylight, the NHS, SSAFA, Speke Training and Education Centre and Combat Stress, among many others.
Achievements include:
At the end of March 2020, the total number of veterans helped since Launchpad opened in 2013 is 461.
42% of residents leave Launchpad with jobs.
69% successfully move on to settled accommodation, either living independently, reunited with family or with the support they need.

Launchpad won the 'Working Together' award in the national 'Soldiering On Awards' and two founders were awarded the Prime Minister's 'Point of Light".

Launchpad won The Veterans' Foundation award at the Heropreneurs Awards 2019.
About The National Lottery Community Fund
We are the largest community funder in the UK – we're proud to award money raised by National Lottery players to communities across England, Scotland, Wales and Northern Ireland. Since June 2004, we have made over 200,000 grants and awarded over £9 billion to projects that have benefited millions of people
We are passionate about funding great ideas that matter to communities and make a difference to people's lives. At the heart of everything we do is the belief that when people are in the lead, communities thrive. Thanks to the support of National Lottery players, our funding is open to everyone. We're privileged to be able to work with the smallest of local groups right up to UK-wide charities, enabling people and communities to bring their ambitions to life.