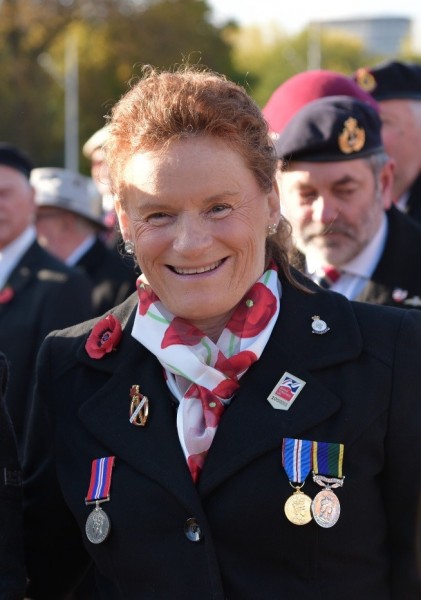 Blind Veterans UK has launched a new video aimed at ophthalmologists, sight loss advisors and other eye health professionals, to increase the referral of blind veterans to the charity as part of National Eye Health Week (18 – 24 September).
The short video, filmed at St Helen's Hospital, features Maria Pikulski, an Eye Clinic Liaison Officer (ECLO) based at the hospital, who is also a beneficiary of the charity.
Maria was recently recognised by the sight loss sector when she won the 2017 Eyecan Awards run by Galloways. The awards were created to celebrate what can be achieved by people of all ages when they are given the right opportunities, encouragement and support.
The video has been launched today as part of a wider social media and direct marketing campaign specifically targeting eye health professionals during National Eye Health Week. You can watch the video here.
Maria was just 18 when she joined the Women's Royal Army as a Private. Over the years, she moved up the ranks to become a Corporal, before leaving the corps for the Territorial Army in 1993 and becoming a nurse at her local hospital.
It was while working as a nurse that Maria was diagnosed with the hereditary sight loss condition Leber's optic neuropathy. Within a year of diagnosis she was registered blind, an experience that Maria found utterly devastating.
Fortunately, one of Maria's friends signposted her to the free, lifelong support of Blind Veterans UK in 2004. Since joining the charity Maria has taken IT training, run a marathon and thrown herself into activities from wing-walking to white water rafting.
Maria says: "I really do feel like I have my independence back. I'm so grateful to Blind Veterans UK. Their support has been life-changing, and my happiness and independence is down to them and the help they've given me over the past 13 years. I always say they saved my life!"
Now Maria is on a mission to reach other vision-impaired ex-Service men and women and tell them about the support available to them from Blind Veterans UK.
Maria says: "I meet these lonely people that are out there with a sight problem and they're feeling isolated and depressed. But when I see them again after they've joined Blind Veterans UK they're a completely different person. They come and say what a fantastic time they've had and they're full of so much confidence! That's what makes me carry on."
Blind Veterans UK provides vital services and support to ex-Service men and women now battling severe sight loss and their families. The charity estimates that there are currently 59,000 blind veterans that would be eligible to access its specialist support, most of whom are not currently aware of it.
If any of your patients served in the Armed Forces or did National Service and are now battling severe sight loss, find out how Blind Veterans UK could help by calling 0800 389 7979 or visiting blindveterans.org.uk
ENDS
For all media enquiries please contact: Ruth Moore, Communications and Marketing Assistant, Blind Veterans UK, 12 – 14 Harcourt Street, London W1H 4HD, E: ruth.moore@blindveterans.org.uk, T: 020 7616 7955
Notes to Editor
Blind Veterans UK
Blind Veterans UK (formerly St Dunstan's) is a national charity that believes that no-one who has served our country should have to battle blindness alone. It provides blind and vision impaired ex-Service men and women with lifelong support including welfare support, rehabilitation, training, residential and respite care.
The charity needs £100 million over 5 years to provide lifelong support to blind ex-Service men and women. Find out more at: www.blindveterans.org.uk, and follow us on Facebook at: facebook.com/blindveteransuk and on Twitter at: twitter.com/blindveterans.