Worthing-based charity, Care for Veterans, has been awarded a grant of £50,000 from The Royal Navy and Royal Marines Charity (RNRMC) and Greenwich Hospital.
The grant is towards the costs of delivering a tailored rehabilitation programme to disabled Royal Navy and Royal Marines Veterans and their dependants. The rehab services included in the grant are occupational therapy, speech therapy, social and recreational activities, neuropsychology, chaplaincy and mini-ambulance service.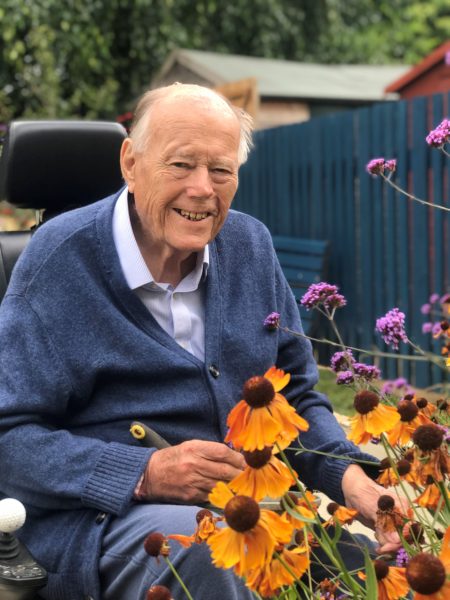 This grant will help Care for Veterans residents like Peter Hines, who is ex-Royal Navy. Peter first came to Care for Veterans in November 2017 for a two-week respite stay. Following multiple falls at home, he and his wife knew that living in the family home was no longer an option. He became a permanent resident in early 2018.
Come rain or shine, Peter can be found outside, tending plants and chatting with fellow gardeners. With the support of the physiotherapy team at Care for Veterans, Peter is as active as his disabilities permit. He says:
"They're very good here; the staff are lovely, they're compassionate. I can't fault the staff at all. My wife is very happy that I'm being looked after here."
Trusts and Foundations Officer, Kim Bowen-Wood, said:
"We are extremely grateful to RNRMC for their very generous donation. It is a wonderful example of their commitment to supporting Naval veterans and their immediate families for life. On behalf of our residents, I would like to take this opportunity to thank them for their continued support. This donation means we can continue to provide our vital care services to our veterans."
About Care for Veterans
Care for Veterans (formerly The Queen Alexandra Hospital Home) was established in 1919 – the charity celebrates its centenary this year.
Care for Veterans is a registered charity, providing care and rehabilitation for physically disabled ex-Service personnel and their families. Our residents' needs are complex and many have multiple disabilities. Many have an Acquired Brain Injury and some have neurological disorders such as Parkinson's or Multiple Sclerosis. Others are paralysed or do not have use of their limbs and some are terminally ill. We support on average 140 residents a year.
We care for up to 60 residents at any one time.
Our residents are aged between 34 and 101.
Our residents represent the tri-services: Royal Navy, Army and RAF.
Services at Care for Veterans include nursing, physiotherapy, occupational therapy, speech and language therapy, an active social and recreation department, rehabilitation kitchen, a chaplaincy service, counselling, IT facilities, a rehabilitation garden, sensory room, function room, and regular outings on our specially adapted coach.
With no regular government funding, Care for Veterans must raise over £1.9 million each year to maintain its nursing and rehabilitation services for ex-Servicemen and women.
Care for Veterans
Gifford House, Boundary Road, Worthing, West Sussex, BN11 4LJ
Telephone 01903 218444
www.careforveterans.org.uk
fundraising@careforveterans.org.uk
Registered Charity No: 1072334