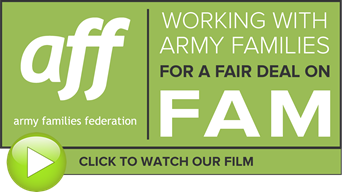 A new film out today produced by the Army Families Federation (AFF) highlights the influence they've had on the development of policy concerning the Future Accommodation Model (FAM), and their ongoing work around the issue on behalf of Army families.
Keeping families informed
With FAM still in its development stage, AFF has taken the opportunity to remind families that they remain committed to representing and involving families in the process as much as they can.
AFF Chief Executive Sara Baade said: "We understand that families are keen to know as much information as possible about any changes that are likely to happen.
We want to reassure families that as we learn more about the FAM options and any pilot sites, we will share details with you, to ensure you are kept up-to-date and have the opportunity to share your views and concerns."
MOD commitment
AFF recently held an influential Networking Event, where Chief of the General Staff, General Sir Nick Carter spoke about his commitment to the consideration of families when developing policy.
In his speech to their audience of Ministers, MPs and various MOD decision makers, he said: "Thanks, in part, to AFF representing families' views and presenting evidence to support it, a common factor of all three options is that FAM must maintain the choice of living in a military community where this contributes to unit cohesion – especially Army families, 73% of whom currently live in SFA."
He also gave more of an insight into how FAM will be introduced once further planning has taken place: "FAM will be tested over 3-5 years at a number of locations with each Service proposing sites that suit their respective needs. I am expecting the locations to be announced by the end of the year and the proofs of concept (as they are being called) are likely to start at the end of 2018."
He added: "As part of the phased approach, we are ensuring that there are safeguards in place so that we have the ability to reverse any individual measures that might prove, for some reason, not to meet our requirements."
AFF FAM film
In the spirit of ensuring families are up-to-date with any developments, the charity hopes their new short film will remind Army families that AFF are there to support them every step of the way.
Watch AFF's FAM film:
https://www.youtube.com/watch?v=_3SeTsvP9DA
To find out what the charity has achieved so far.
Keep up-to-date
AFF recommends families continue to check their website www.aff.org.uk for all further updates regarding FAM, as well as their social media pages.
More about AFF
To find out more about AFF's work, including education for your Service child, visit their website www.aff.org.uk
ENDS
Notes to Editor:
The Army Families Federation (AFF) is the independent voice of Army families: Regular or Reserve, wherever they are based, whatever the make-up of their family.
Throughout the UK and overseas, AFF works hard to achieve policy change and progress in favour of Army families; they offer advice and guidance on all aspects of Army life, confidentially and in an easy-to-digest way.
They work with other agencies such as MOD, government, charities and other key players to strengthen their cause and fight for a fair deal for families everywhere.
Their family-focussed website (aff.org.uk) contains information about all aspects of Army family life, and their Facebook, Twitter and Instagram pages offer families other easy ways to contact us, interact with us, or simply follow the work we are doing.
AFF operates by four core values, which are pivotal to our work. These are:

AFF always puts families first
AFF can be trusted
AFF is bold and determined
AFF is inclusive
Media Contact:
For more information about AFF's work, contact Donna Bernard, AFF Comms & Marketing Director, at commsmarketingdirector@aff.org.uk