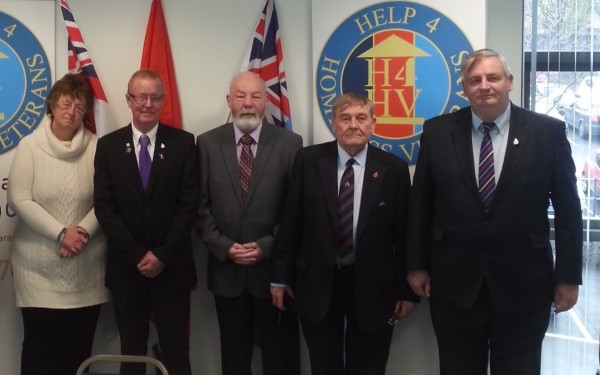 Doncaster Councillor John Healy (Labour Balby South) a former social housing manager in North Lincolnshire prior to retirement recently took over Chairmanship of Help 4 Homeless Veterans a local charity that supports former members of HM Forces in need of emergency housing.  John has served on the committee since November 2015 and was voted as Chair at the recent AGM of the trustees.
CEO Steve Bentham-Bates said:  "John Healy has been a key committee member using his skills and experience to enable to charity to extend its work into the Doncaster area and was instrumental in organising through the Doncaster Council Veterans Support Group working with St Leger Homes to acquire 10 social homes for use by the charity in their work with local homeless veterans.
I am delighted he has accepted the role of Chair and I believe he will help us to develop the charity further into an even more effective organisation supporting more vulnerable veterans".
Pictured left to right  Mrs Diane Dernie Trustee, Tom Wood Founder, John Healy Chairman, Kevin Hartley outgoing Chairman Steve Bentham-Bates CEO.