A senior naval officer has taken over at the helm of Broughton House Veteran Care Village as the new chairman of its board of trustees.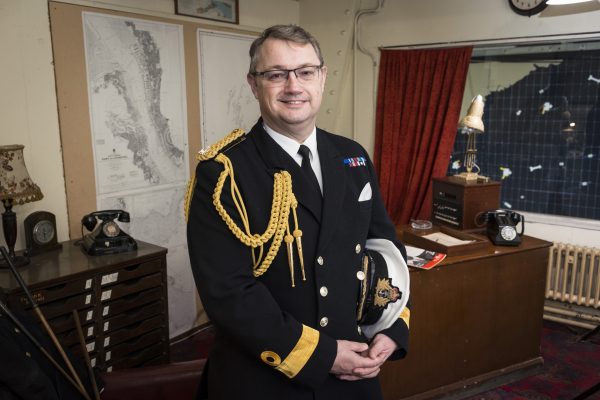 Commodore Phil Waterhouse succeeds Professor Sir Netar Malik, who has stood down after eight years in the role at the Salford care home for former servicemen and women.
Commodore Waterhouse is the Naval Regional Commander for Northern England and the Isle of Man.
He is the First Sea Lord's Ambassador for the region, whose task is to ensure that the Naval Service is understood, respected and valued by the community it serves.
He has been in post since 2017 and flies his Broad Pennant from his headquarters in Liverpool.
Commodore Waterhouse joined the board of Broughton House as a trustee three years ago.
He said:
"My time on the board of Broughton House has given me a great fondness for not only the residents and staff, but also an understanding and drive to help deliver the wider aspirations and impact that the UK's first Veteran Care Village and charity is seeking to achieve.

"I could not be more pleased nor humbled to be asked to lead the trustees into this exciting new period for Broughton House."
Broughton House is being transformed into the UK's first Veteran Care Village in a £15m scheme.
Once completed, the two-acre site will feature a 64-bedroom care home, up to 30 independent living apartments, a military support hub, a memorial park, and landscaped gardens with a bowling green and bandstand.
Commodore Waterhouse paid tribute to Sir Netar and to George Almond, who has stood down as one of two vice-chairmen of Broughton House.
"Their contributions have been magnificent and we are extremely grateful to them for their many years of dedicated service to the region's veterans," he said.
Commodore Waterhouse joined the Royal Navy as a Junior Sailor in 1982 and was promoted to the Officer Corps in 1988.
He served in a variety of senior seagoing and shore roles before taking up his current post.
Outside of work, he is a keen sports fan and family man. He is a past chairman of the Royal Navy Rugby League Association and vice-chairman of Great Britain Armed Forces Rugby League, and is a practising cricket umpire.