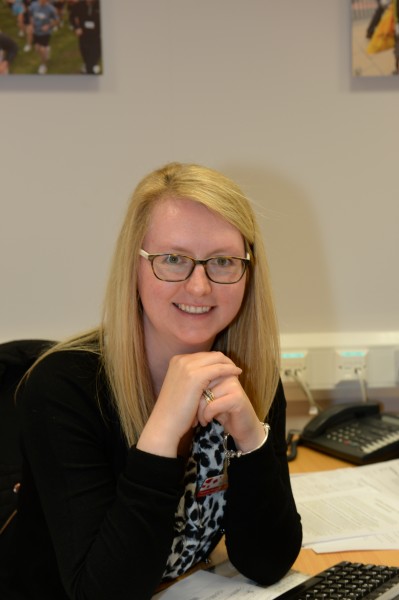 Poppyscotland is delighted to announce the arrival of a new Regional Fundraiser for its welfare centre in Inverness. Frances Beveridge joins a team going from strength to strength since the centre opened its doors four years ago.
In her role, Frances will develop, implement and grow supporter-led fundraising within the region. A critical aspect of the job is to support the volunteer Poppy Appeal Area Organisers to maximise their local appeal totals and Frances will also be working to maximise the potential of the schools fundraising strategy and promote and enable supporter participation in large-scale national events.
Frances has been involved in fundraising for different charities throughout her career and she has successfully put on charity events, which made it a natural choice for her to apply for the role at Poppyscotland.
She said: "I feel privileged to be part of Poppyscotland and what they represent. Poppyscotland is a fantastic charity to work for and everyone is extremely friendly and helpful. As I am based in the Welfare Centre, I see first-hand how the money raised helps serving and ex-serving Servicemen and women and their families.
"I have a lot of fundraising ideas, especially leading up to our centenary year in 2021, so please keep an eye out for upcoming events in the area by liking our social media pages or by contacting me direct on 01463 701764 or 07734 979990, or by email at f.beveridge@poppyscotland.org.uk."
Poppyscotland Inverness, which opened in June 2013, provides advice, information and support to serving and ex-Servicemen and women, and their families. Since opening, the centre has received more than 2,000 general enquiries and, as well as offering a drop-in service, the team has worked on a one-to-one basis to support more than 300 people who have presented with issues including benefits, debt, employment, finances, health, housing and social isolation.
The age range of those accessing the centre is between 18 and 80-plus, but the majority of people are aged between 35 and 59. Partnerships have been developed locally and include collaboration with Legion Scotland, SSAFA, Armed Services Advice Project, NHS Highland, V1P Scotland and Highland, Armed Services Advice Project, Highland Community Covenant Partnership, Moray Community Covenant Partnership, and the Veterans' Welfare Service.
ENDS…
Notes to editors
For further information please contact David A. Findlay, PR Manager at Poppyscotland, on 0131 550 1580 or 07950 991 294, or email at findlay@poppyscotland.org.uk
Poppyscotland Inverness can be found in the heart of the Highland capital. It is close to both the bus and train stations and there is a large car park nearby and is open Monday to Friday from 10am to 4pm. The address is: Poppyscotland Inverness, Strothers Lane, Inverness, IV1 1LR. You can call the centre on 01463 710300 or email at inverness@poppyscotland.org.uk
Poppyscotland provides life-changing support to the Armed Forces community. Money raised from the Scottish Poppy Appeal and Poppyscotland's year-round fundraising enables them to deliver support to members of the Armed Forces community in Scotland by providing tailored funding and assistance. The charity also funds services in advice, employment, housing, mental health, mobility and respite. Please note that we are known as "Poppyscotland", and not "PoppyScotland" or "Poppy Scotland". Visit us at poppyscotland.org.uk