Lady Haig's Poppy Factory was alive with activity today as the four million poppies which are all made by hand by former Service personnel were loaded on to trucks to begin the journey to the four corners of the country ahead of the 2020 Scottish Poppy Appeal.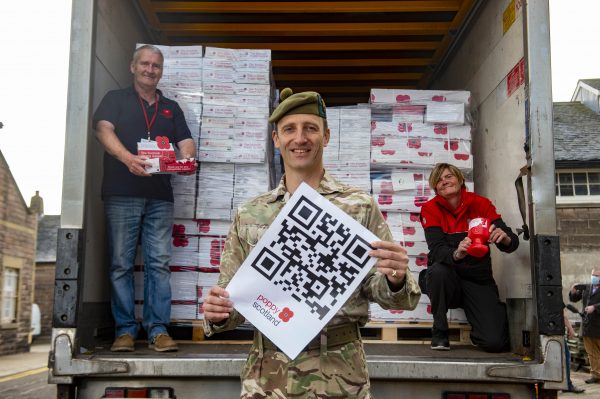 However, even though the poppies went out as normal – with the Factory team actually completing their work ahead of time – this year will be like nothing seen before as Poppyscotland embraces new technology to ensure a safe and secure Poppy Appeal in 2020. As part of Poppyscotland's adoption of new technology, contactless giving will enable the public to show their support whilst keeping them and the charity's volunteers safe in the process.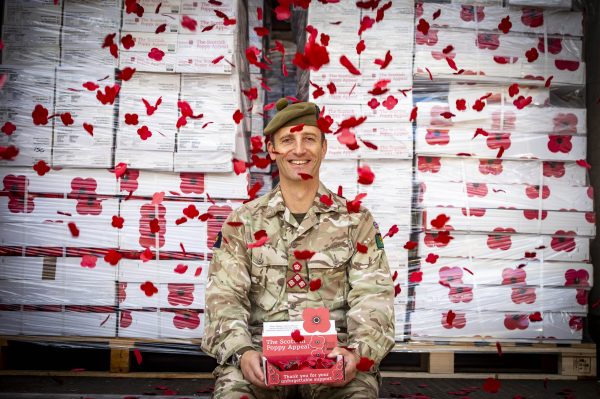 QR codes and microchips, which are automatically recognised by smart phones, have been placed on poppy boxes so that members of the public will still be able to give in a socially distant, completely contactless and secure way. What's more, all of the charity's Poppy Appeal Area Organisers have set up JustGiving pages to boost their local fundraising efforts.
Overseeing the milestone distribution day, as well as meeting a small number of Poppy Factory veterans, was Mark Collins, the interim Chief Executive of Poppyscotland. Mr Collins said:
"Our incredible team of disabled veterans at Lady Haig's Poppy Factory do remarkable work each and every day. Adaptability is a key strength instilled in Service personnel and this has been especially evident from the Factory veterans this year, given that they have produced more than one million poppies from home during lockdown.

"Just as they have had to adapt to the ever-changing world that we live in, this year's Scottish Poppy Appeal is also having to adapt. The new technology that has been introduced is a terrific advancement and will help to ensure this vital fundraiser goes ahead, but does so in a safe way for the public and Poppyscotland's volunteers alike."
In an added measure of safety, Poppyscotland will distribute poppies and tins to every school in Scotland this year, rather than having volunteers deliver these as would normally happen. As part of the charity's comprehensive Learning programme, schoolchildren will be encouraged to become "Fundraising Heroes", going the extra mile in support of this year's Appeal.
Gordon Michie, Head of Fundraising at Poppyscotland, said:
"We know that the 2020 Scottish Poppy Appeal will be like no other, and we need the public to support this year's Appeal like never before. The introduction of mobile giving is a huge step forward for us, and, together with the continued support of our amazing volunteers and the increased activity within schools, we will ensure that poppies are still widely available, that any risk to public health is minimised and, most importantly, the vital funds that are needed to support the Armed Forces community in the year ahead are raised.

"This is the first time that contactless giving has been rolled out on such a scale, but, in addition to keeping everyone safe, it is also an important part of our long term development of the Scottish Poppy Appeal, as it approaches its centenary in 2021. It takes a remarkable effort by all of the disabled veterans at Lady Haig's Poppy Factory to get us to this point, and it means our most important fundraiser is just around the corner."
With redevelopment work still ongoing at their home in Warriston Road, in Edinburgh, Lady Haig's Poppy Factory has been based at Redford Barracks for the past two years. Lockdown meant that the team were based at home for several weeks – but poppy-making continued in earnest.
Major Charlie Pelling, the Manager at Lady Haig's Poppy Factory, said:
"For the veterans to cope with lockdown in the way that they did to ensure that sufficient quantities of poppies were ready in time was a remarkable achievement and a tribute to their professionalism and dedication.

"I would also like to take this opportunity to thank the Ministry of Defence and Army in Scotland for kindly housing the temporary Poppy Factory at Redford Barracks for the past two years. Work has recommenced at our Warriston Road site and is expected to be completed in summer 2021, when Lady Haig's Poppy Factory will return to its permanent home."
The Scottish Poppy Appeal is the largest annual charity street collection in Scotland and raises almost £3 million each year. Run by Armed Forces charity Poppyscotland, money raised from the Poppy Appeal and their year-round fundraising enables them to deliver support to members of the Armed Forces community in Scotland by providing tailored funding and assistance. The charity also funds services in advice, employment, housing, mental health, mobility and respite.