A new garden area providing peace and tranquillity for veterans to enjoy was unveiled in Newcastle yesterday (Thursday 18 July).
Over 60 volunteers from organisations across the North East worked together to transform the garden area at one of the largest veterans' houses in the city.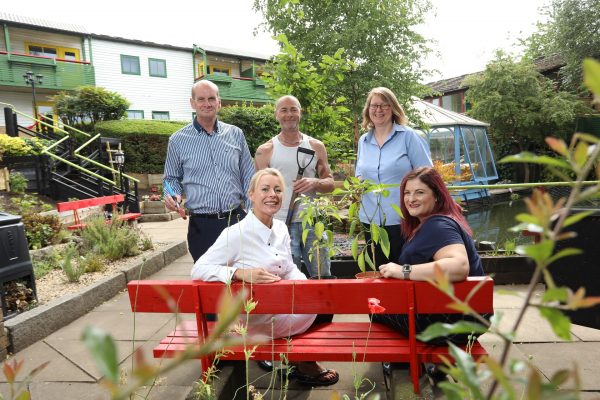 The area, which lies within a central courtyard at Launchpad's Avondale House in Byker, Newcastle has been completely transformed, making it more accessible and creating an area where residents and visitors can enjoy.
The garden makeover was led by Virgin Money who initiated the project and held workshops with veterans living at the scheme to find out what they wanted to see within their garden to develop it into a more useable space whilst making it more accessible, welcoming and providing low maintenance.
Helen Richardson-Smith, Workplace Designer at Virgin Money co-ordinated the week-long project and not only liaised with residents and staff but also managed to bring more volunteers to the project.
As part of its community programme, staff at Virgin Money are encouraged to volunteer two days each year to community-based projects where they will make a difference.
Helen, working alongside Launchpad, also encouraged staff from DHL Supply Chain's Prudhoe and Faverdale sites, NHS Business Services Authority, Northern Gas Network and CJ Fencing to help over the five days, which included clearing overgrown shrubs and bushes, repairing old stairways and installing supports for bedding areas. The volunteers then created an allotment area, a strawberry field, poppy memorial area, herb garden and the planting of bedding plants, shrubs, fruit trees and vegetable areas to provide colour and encourage sustainable eating. A new shed has been installed within the garden and the existing greenhouse completely renovated, re-painted and made secure.
Virgin Money and the DHL sites contributed funding towards the project to enable essential items to be bought while other local businesses such as Quayside Timber, CJ Fencing, Oak Leaf Fencing and Landscaping, Lintzford Garden Centre, J Beverage the Nursery and Jewson all provided items in kind or at cost price. New garden furniture has been provided and flag stones laid to create new paths and walkways.
David Shaw, CEO and Co-founder of Launchpad, said: "What has been achieved in the space of a week is nothing short of a miracle. The garden and central courtyard is unrecognisable and has been completely transformed. The generosity and power of local businesses across the North East coming together to support our veterans is very much appreciated.
"It was lovely to see some of the residents also getting involved and they all appreciate the efforts that the volunteers have made. Everyone can be proud of themselves and the garden is now an area that provides a space for peace and tranquil and for our veterans to socialise. We are going to set up a gardening club for some of our green fingered residents to keep on top of all the great work that has been achieved. Thank you."
Project co-ordinator, Helen Richardson-Smith from Virgin Money, said: "Last year, we worked with Launchpad to transform the communal lounge at Avondale House by creating a better environment for the veterans. This included re-painting the lounge, installing new carpets and blinds and donating furniture. We made a promise that we would come back and help to transform this beautiful courtyard.
"Before we got involved, no one utilised the space and it was such a shame – there were lots of hedges, overgrown trees, it wasn't accessible, and it lacked colour. Now it has been completely transformed and we hope that this new area will help veterans with their rehabilitation and provide something for them to be proud of. This couldn't have been achieved without the residents, staff and other organisations involved so thank you to everyone who has been part of this journey."
DHL project co-ordinator Fiona Millward, said: "It's been great to work on this project with Launchpad. Everyone who helped from our Prudhoe and Faverdale sites had a great time and to see the end result is fantastic. DHL encourages employees to volunteer their time to support the communities they work or live in and we support our staff to help with charity projects through our local 'Corporate Social Responsibility' scheme. We hope the residents at Avondale House enjoy working and relaxing in this revitalised garden."
Avondale resident Drew Scott who also helped to volunteer said: "Wow, what a difference this has made. They have completely transformed the area and it has made such a difference. It is now full of colour and we have somewhere where we can sit and enjoy the surroundings and appreciate the outdoors. I really enjoyed helping the volunteers."
Kirste Worland, Head of Technology Applications at NHS Business Services Authority, said: "It has been a wonderful project for our teams here at the NHS Business Services Authority to get involved in. When we were first told about the proposal, we could immediately see the benefits that a space like this would give to the veterans there, and quickly engaged in the planning stage with Virgin Money. Speaking to all those who attended, I can truly say they thoroughly enjoyed getting stuck in and especially the results."
Officially cutting the ribbon to unveil the garden was Jill Haley, Chief Executive of Byker Community Trust housing association which owns Avondale House. She said: "It's amazing to see how much the garden has been transformed and I hope the residents will now utilise this new open space. So much can be achieved by working together and I congratulate all the organisations and volunteers who have made this possible."
Launchpad provides accommodation and targeted support, with assistance of specialist providers, to help veterans stabilise their lives and make a successful transition from military to civilian life. Last year, Launchpad supported 152 homeless and unemployed veterans in two houses in Newcastle and Liverpool.
The garden is available to all veterans living in Newcastle (not just residents of Avondale House). For more information, please contact Launchpad's Avondale House on 0191 265 7039.
For more information on this press release, please contact Craig Downs from Up North Communications on 0191 300 0810, 07811 287 922 or email craig@upnorthcommunications.co.uk
Notes to Editors:
AF&V Launchpad is a registered Charity Number 1153185 and Company Number 8633047.
For more information about Launchpad, please visit www.veteranslaunchpad.org.uk
Launchpad welcomes donations to support its veterans, through its website
Key partners that Launchpad work with are: Liverpool City Council, Newcastle City Council, Big Lottery, ABF The Soldiers' Charity, Royal British Legion, Veterans' Foundation, Forces Employment Charity, Addaction, Crisis Skylight, the NHS, SSAFA, Speke Training and Education Centre and Combat Stress, among many others.
Achievements in the last year have been as follows:

48% of residents settle into independent living with jobs
60% of residents settle into independent living, on benefits and may be looking for a job
25% of residents move on without significant change to their wellbeing, but all will have benefited from Launchpad's support
Over 400 residents have benefited from Launchpad's services
Launchpad won the 'Working Together' award in the national 'Soldiering On Awards' and two founders were awarded the Prime Minister's 'Point of Light"
Shortlisted for this year's Heropreneurs Awards, award announced Autumn 2019