Clothier Lacey & Co, one of the region's best-known marketing and PR consultancies, is throwing its weight behind Launchpad, a charity which supports homeless veterans, to help bolster its fundraising activities during its tenth anniversary year.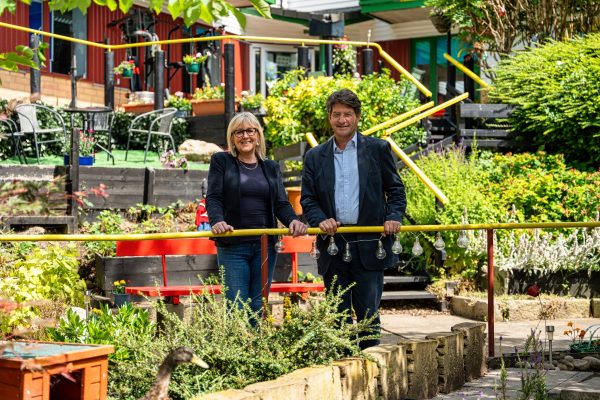 Launchpad was founded in 2013 by former members of the military community who wished to help veterans struggling with transition from the military into civilian life and needed help and assistance, particularly with accommodation.
Additionally, the founders realised that the sort of accommodation needed was in short supply in the North East.
Accordingly, Avondale House in Byker was the first house to open, followed by Speke House in Liverpool which the charity purchased in early 2015 and its third home, Hollyacre House in Sacriston, County Durham, opened in May 2022.
While 90% of the veterans who arrive at Launchpad are either street-homeless or sofa-surfing, to date, almost 635 veterans have been supported since 2013, 137 residents have been supported between July 2022 and end of June 2023, 61% have successfully moved on and 41% gained employment during their time with Launchpad.
Speaking about the charity and Clothier Lacey's decision to lend its support, managing director, Philippa Clothier, said:
"We are also celebrating a milestone this year – our 25th anniversary – and we wanted to select a special partnership to mark our successful twenty-five years.

"I have sat on the fundraising committees for several charities over the years but wanted to work with a totally different type of charity in our 25th year. Launchpad just seemed to be the perfect match – putting our marketing and PR skills as well as our extensive network of contacts to work on behalf of those less fortunate who are finally being given a roof over their heads by the charity.

"Many of the residents have mental health issues, ranging from anxiety to service and non-service-related PTSD (Post-Traumatic Stress Disorder). Some have just been released from prison, some need help with addictions to alcohol and drugs and others have found themselves homeless because of relationship and family breakdowns or not being able to secure paid employment.

"Whatever their back story, these men and women have at some stage, been prepared to put their lives on the line so that we can all sleep safely in our beds at night. They deserve our help and we are looking forward to working with Launchpad to provide support in whatever way we can."
CEO and co-founder of Launchpad, David Shaw, said:
"We are very grateful to Philippa and her team that they are keen to work with us in this important 10th anniversary year and we look forward to developing a successful relationship with them. It is timely that we are sharing 10th and 25th anniversaries.

"Launchpad has recently been selected by the government as one of nine organisations to tackle the issue of veteran homelessness. Funding for additional support has been awarded through the Op FORTITUDE programme, a new dedicated pathway for veteran rough sleepers. Staff at Op FORTITUDE will refer callers to a network of support including housing providers, charities and local authorities and as part of the programme, Launchpad will provide additional, sustained support to homeless veterans across all three of its houses. 

"We are likely to be entering a much busier period – although we always have a waiting list for accommodation – so it is tremendous news that our PR, communications and business development manager, Craig Downs, will be able to call upon extra pairs of hands."
Launchpad is marking its 10th anniversary with a fundraising dinner to be held at the Discovery Museum on 27th October. Organisations can support the charity by attending the event, providing a raffle prize or providing training and employment opportunities to residents. Find out more at https://veteranslaunchpad.org.uk