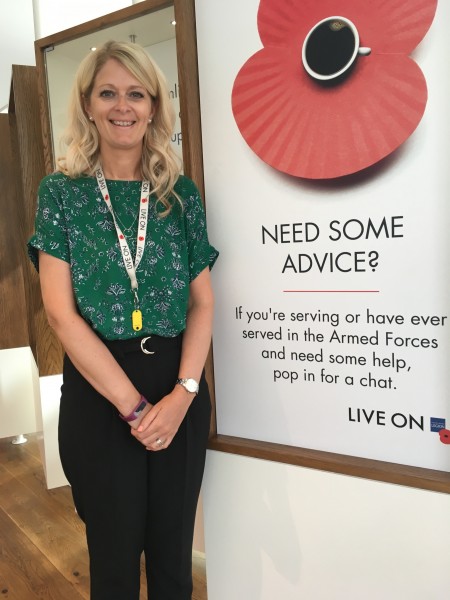 The Royal British Legion has appointed Nicky Addison to be the charity's first community Admiral Nurse in Bradford, providing support to carers of those with dementia living within the Armed Forces community.
Nicky, 44, from a village near Ripon, previously worked as an Admiral Nurse for a local charity in North Yorkshire.  She qualified in 2003 as a Registered Mental Health Nurse and has spent 14 years working with older people.
Nicky said: "This is a completely new service for Bradford. One in three people over the age of 65 will be diagnosed with dementia and, because we 35,000 potential beneficiaries in Bradford, that gives you an idea of the level of need.
"We already had enquiries on the books even before I arrived and the referrals are coming in thick and fast."
Nicky says her role is wide-ranging: "We go in and make an assessment of the person with dementia but particularly the carer and how we might improve their situation. It might be a carer who never gets a break, or has had to give up all of their hobbies, so we look at how we can provide emotional, practical and psychological support.
"When you go into a situation you find positivity and we can make a difference – we get called 'guardian angels', which makes it the most rewarding job in the world. When people let you come in and engage with you, you feel privileged and honoured.
"I've already met so many veterans, people who experienced the D-Day landings, I've seen their medals and heard their stories and been in absolute awe of them."
Nicky is married to Phil, a motorsport mechanic, and has an eight-year-old daughter called Phoebe.
Paula Smith, the Legion's Admiral Nurse national lead said: "There is a genuine need in Leeds and Bradford to support more families living with dementia in this region, so we are delighted to have Nicky working with us, as she will have a positive impact on the quality of care our patients receive.
"I feel immensely proud to be an Admiral Nurse because, each day, I have an opportunity to make a real difference, whilst the support of the Royal British Legion and Dementia UK helps us to deliver care where it is most needed."  The Royal British Legion is the biggest employer of Admiral Nurses in the UK.
If you, or the person you are caring for, are serving or have ever served in the Armed Forces, the Royal British Legion may be able to help. Call the local Admiral Nurse team on 0333 011 4508.
-ENDS-
Notes to Editors:
The Royal British Legion's work is encapsulated in its motto: Live On – to the memory of the fallen and the future of the living. The Legion is the nation's biggest Armed Forces charity providing care and support to all members of the British Armed Forces past and present and their families. It is the national custodian of Remembrance and safeguards the Military Covenant between the nation and its Armed Forces. It is well known for the annual Poppy Appeal, and its emblem the red poppy. britishlegion.org.uk
For further information or to arrange interviews contact Louise Garrahan, Public Relations Officer North) lgarrahan@britishlegion.org.uk / 0333 011 4319 / 07826 908467