Delegates and guests attending a glittering awards ceremony in Newcastle upon Tyne last month have helped to raise thousands of pounds for a charity providing vital accommodation and support to homeless veterans.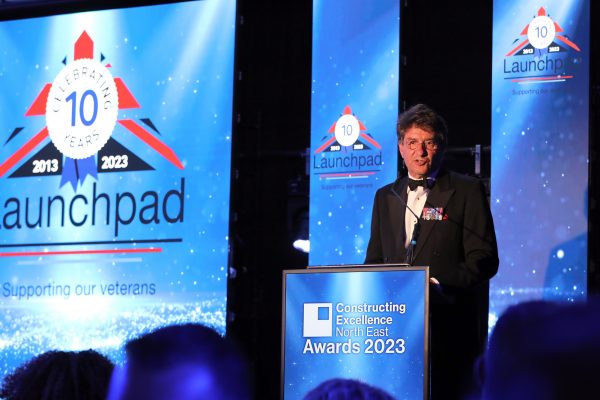 A grand total of £3,474 was raised for Launchpad after it was nominated as the charity of choice at this year's Constructing Excellence North East Awards, held at the Grand Hotel Gosforth Park on Friday 16 June.
Over 500 guests attended the black-tie event which celebrates the North East Built Environment and showcases and celebrates achievements by projects, organisations and individuals as they continue to set the benchmark for excellence.
Now in its 19th year, judges shortlisted a number of projects and organisations to compete across 15 categories. The winners of the North East awards will go on to represent the North East in the national finals in London later this year.
David Shaw, CEO and Co-Founder of Launchpad, said:
"We are very grateful to the Board of Constructing Excellence North East and headline sponsor CDM Recruitment for choosing Launchpad as this year's charity.

"This year is our 10th anniversary of providing support and accommodation to homeless veterans and we have two houses here in the North East, in Newcastle and Durham, providing accommodation for up to 50 veterans.

"The North East housing and construction sector has always been very supportive of our work and some of the organisations we work with were shortlisted for awards, which is fantastic to see. We are very grateful for the amount of money that was raised but importantly, the event helped us to continue to raise awareness of our work and to engage with organisations that can support our three core aims of housing, health & wellbeing and employment.

"Congratulations to everyone who was shortlisted and won an award."

Catriona Lingwood, chief executive at Constructing Excellence in the North East, said: "Launchpad is a charity that very much has our support. It is crucial that veterans have assistance so they can transition successfully from military to civilian life.

"On behalf of CENE and its members, we hope our contribution can make a difference."
Launchpad runs three houses in the North of England providing accommodation and support for up to 101 veterans. Since 2013, over 620 veterans have been supported across all three houses in Liverpool, Newcastle and Durham.