Veteran residents living at Launchpad's Avondale House in Newcastle-upon-Tyne are setting up a cycle club to help improve their mental health and wellbeing.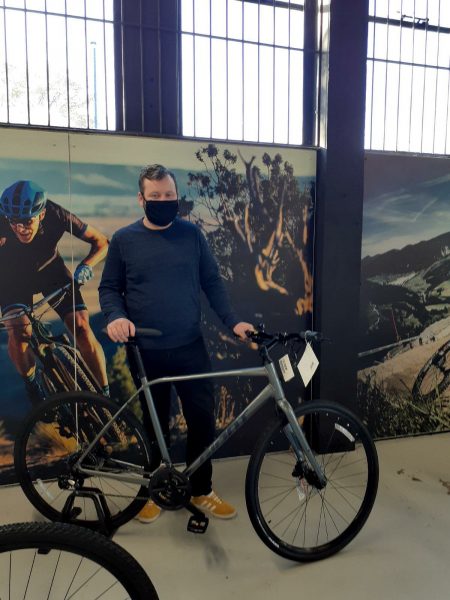 The Avondale House Cycle Club has been established to encourage residents to get outdoors and enjoy the benefits physical exercise brings but also improve their health, mental wellbeing and to reduce isolation.
The charity has secured funding via The Morrisons Foundation, which supports charities to make a positive difference in local communities. The total amount awarded to Launchpad was £9,100, which will be used to purchase five bikes and associated clothing and equipment, a cycle trailer and storage unit as well as tents, sleeping bags and camping equipment.
Regular meetings are held with residents to find out what they would like Launchpad to support them with and the overwhelming response was to create a cycle club.
Phil Thompson, Manager at Launchpad's Avondale House which is located in Byker, said:
"We are really grateful to The Morrisons Foundation for this funding which will enable us to cover the costs of setting up a cycle club.

"Due to Covid-19, our residents have felt isolated with many having to shield. Peer support and exercise are vital to their recovery, but we have had to close indoor communal areas and the veterans have had to spend more time alone. This has had a significant effect on their mental health, even more so after going into a second national lockdown.

"Our residents are very enthusiastic about the cycle club and as well as regular outdoor fitness and exercise, they plan to use the equipment for challenges such as cycling the Coast2Coast."
David Scott, Trustee of the Board at The Morrisons Foundation, said:
"We are absolutely delighted to be providing this grant to support Launchpad's fantastic work. We know that cycling can have a range of benefits beyond physical health. Exercise has a vital role to play in keeping minds active, particularly at this time and we are therefore very proud that this project is now regularly available for veteran residents."
Avondale House comprises 33 self-contained one-bedroom flats and residents are supported to help them make a successful transition from military to civilian life. Since 2013, the charity, which also has a house in Speke, Liverpool, has supported 490 veterans. In a typical year, 69% successfully move on to settled accommodation and 42% leave in paid employment.
This year, those numbers have fallen due to the Covid-19 pandemic, as employment opportunities are harder to find and recovery rates have slowed due to difficulties in getting veterans the support they need.