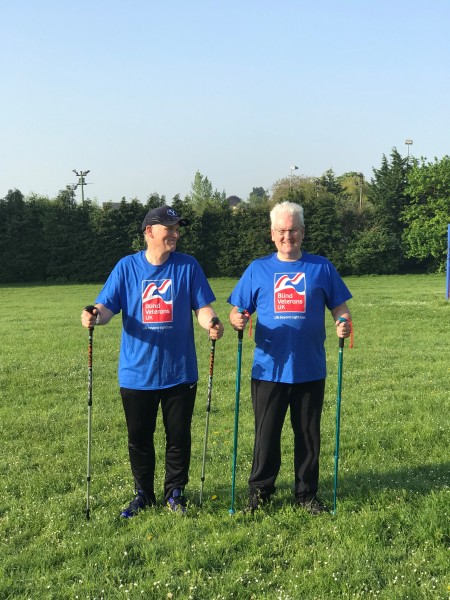 A blind veteran from Northampton is currently training to take part in a 22 mile walk along on the Normandy coastline to commemorate the anniversary of D-Day.
Peter O'Malley, 61 and from Duston, will take part in the event alongside five other blind veterans supported by Blind Veterans UK, the national charity for vision-impaired ex-Service men and women. The challenge will take place on 6 June, the anniversary of the 1944 Allied invasion of occupied France.
Peter says: "I know that it will be hard work, particularly as I am vision-impaired and the course takes in rough terrain, but I don't think sight loss should stop you taking on a challenge."
Peter joined the General Service Corps aged 17 in 1974 before transferring to the Army Air Corps following his basic training. He worked as a driver, signaller and administrator before being demobbed in 1977.
Peter says: "There were good and bad times in the Forces but I learned the valuable skill of self-discipline, which has served me well my whole life."
Following his Service Peter worked in removals and logistics before driving for a mini cab firm. He married and went on to have six children before his first wife sadly passed away in 2009. It was shortly after this that Peter lost his sight almost overnight.
Peter says: "I went to sleep and the next morning I woke up but it was as if the lights had been turned off. When it became apparent that I'd lost my sight I honestly thought my life was over, it was very difficult to accept that I had become blind."
Peter was diagnosed with Ischemic Optic Neuropathy (ION), a condition caused by a sudden loss of blood supply to the optic nerve. He was referred to the Royal National College for the Blind (RNC), where he studied for nine months.
It was during this period that Peter struck up a conversation on a train with a fellow blind veteran who told him about Blind Veterans UK and persuaded him to contact the charity. Peter started receiving support from the military charity Blind Veterans UK in 2012.
Peter, who has since remarried, says: "I'm continually astonished by the support I've received. From equipment that helps me adapt to my sight loss to independent life skills training and assistance with my housing, Blind Veterans UK has completely turned my life around."
He continues: "More recently I've realised that I need to look after myself better, and staff from Blind Veterans UK have been helping me with my health and fitness. That's where the idea for this challenge has come from."
As well as the D-Day 44 challenge, Peter will also be tackling Blind Veterans UK's 100km walk from London to Brighton this July. He has been training with the help of two of his children and his son Andrew will act as his guide during the 100k walk.
Peter says: "Challenges like the 100K and D-Day 44 are as much about psychological strength as they are about physical strength. I'm feeling really positive now that I'm well into my training and I hope that my efforts will prove to other vision-impaired people like myself that sight loss shouldn't hold you back."
Sign up is still open for the Blind Veterans UK 100K challenge. To find out more visit blindveterans.org.uk/100K
To support Peter with his fundraising for the D-Day challenge, visit justgiving.com/campaigns/charity/blindveterans/d-day
For all media enquiries please contact: Ruth Moore, PR and Communications Executive, Blind Veterans UK, 12 – 14 Harcourt Street, London W1H 4HD, E: ruth.moore@blindveterans.org.uk, T: 020 7616 7955
Notes to Editor
Blind Veterans UK
Blind Veterans UK is a national charity that believes that no-one who has served our country should have to battle blindness alone. Founded in 1915, the charity provides blind and vision impaired ex-Service men and women with lifelong support including welfare support, rehabilitation, training, residential and respite care.
Find out more at: blindveterans.org.uk, follow us on Facebook at: facebook.com/blindveteransuk and on Twitter at: twitter.com/blindveterans.