A blind veteran from Northamptonshire has been creating and painting mosaic tiles for his garden during the lockdown period, after the charity Blind Veterans UK introduced him to the craft.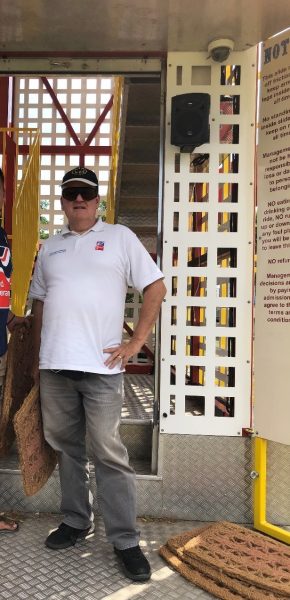 Peter O'Malley, 63 and from Northampton, has created and painted large tiles for his garden and is currently creating a 6ft by 3ft soldier for his garage wall. He says:
"I first learnt about mosaics when I attended my induction week at the charity. I was delighted to find something creative which I can do despite my sight loss. I hadn't done art since school and now have a little workshop at home and it's become a great hobby of mine!".
Peter served in the Army Air Corps and signed on for three years before being diagnosed with optic neuropathy. He has been supported by Blind Veterans UK since 2012 after hearing about the charity while on a train to Hereford. He says: "I was on my way to the Royal National College for the Blind and I noticed a passenger with a white cane so I asked him if he was also on his way there. He said that he was going to something organised by Blind Veterans UK – I had never heard of the charity before but I looked them up when I got home and the rest is history!"
To show his appreciation for the charity and for the support that they have given him, Peter decided to fundraise for two weeks during lockdown and raised a total of £2400. He says:
"Sight loss can make you feel very isolated but the charity are always reaching out to their veterans and are a great support. I was originally going to take part in March for Veterans but when that was cancelled because of COVID-19, I knew I wanted to do something else as it's a tough time for charities at the moment".
Peter organised to do the fundraising at Rothersthorpe service station with the help of two other veterans, Graham and Bernard. He says:
"We were allowed to have our own table with banners – the public were very generous and wanted to hear all about the charity. I'm definitely going to do the same next year and it would be great if other blind veterans up and down the country could do the same!"
Blind Veterans UK has adapted its service to support its 5,000 beneficiaries, 90% of whom are over 70 and at an increased risk from Covid-19. The National Support Service will help blind veterans through this period of social isolation.
Nicky Shaw, Blind Veterans UK Director of Operations said:
"Living in isolation, blind veterans need our help right now with daily tasks, such as the shopping, and constant emotional support through this difficult time. So we are temporarily changing our service and mobilising our staff to provide practical, essential support to help the most vulnerable.

"There is so much that we can and must do to support blind veterans to help them maintain physical and emotional wellbeing, and to feel safe, reassured and cared for during this crisis."
You can keep updated on Blind Veterans UK's response to Covid-19 at blindveterans.org.uk/coronavirus where you can also find out more about supporting the charity to make this new service possible.