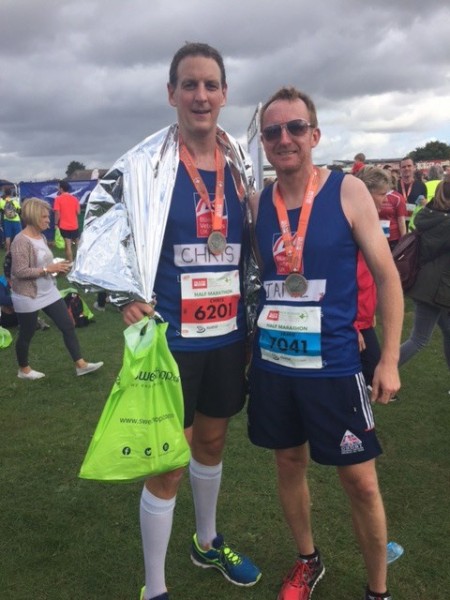 A man from Nottingham is training to compete in this year's London Marathon for Blind Veterans UK, the national charity for blind and vision-impaired ex-Service men and women that supports his friend.
Chris Walker, 42 and originally from Kent, applied after being inspired by friend and multiple Invictus Games medal-winning blind veteran, Jamie Weller. He says: "I've been saying for over ten years now that I'd love to do a marathon, but of course, like everyone else, there's always been a good reason not to.
"Well, I say a good reason, really there's just always been a reason!"
After applying, unsuccessfully, for ballot entry this year, Chris was convinced to apply for a charity place by Jamie. He recalls: "My wife and I have known Jamie and his wife for years now. He's an incredibly inspirational chap and a great friend. I was telling him that I'd failed to get a place when he recommended I do it on behalf of a charity. He was telling me what a wonderful organisation Blind Veterans UK is and about all the support he's received over the years."
Jamie, a veteran of the Royal Navy, is himself no stranger to intense sporting activity. After training with the Great Britain Paralympic team in preparation for this year's Winter Paralympics in South Korea, he sadly suffered a leg injury. Chris says: "It was a massive, massive blow for him. He'd invested so much time, energy and dedication. He was gutted, understandably."
Refusing to be discouraged, Jamie soon accepted an invitation from the armed forces to apply for the 2017 Invictus Games, in which he was successful and eventually entered into a range of events, including sprinting. Chris says: "He was 47 years old at the time so I think he was a bit hesitant about the sprinting entry! Fortunately, that all changed when he was sent down to Loughborough University to do some training. He was told very little, other than that it would be with a coach by the name of Linford.
"Upon arrival he soon found out that it wasn't any old Linford, but the Linford Christie! I think his enthusiasm soon grew after that!"
Jamie went on to win an incredible four Bronze medals at the games, something which Chris admits led him to abandon his well-worn set of excuses. Chris says: "There Jamie was, four medals round his neck and having just completed a fundraising trip to climb to Everest Base Camp, listening to me rattle off the same old excuses! He turned around and said, 'Really, what's your excuse now?'
"That was that!"
With a busy training schedule underway, Chris, who's competed in a number of half marathons previously, will now be turning his attention to fundraising. Fortunately, he'll be able to call on the support from his own daughter to ensure he's able to raise as much money as possible. He explains: "My 9 year-old daughter is eager to help out with the fundraising, so she's going to be doing a 10-mile sponsored ice skate in March! We're going to be making an event of it, selling raffle tickets and just doing as much as we can to promote the charity.
"Beyond that, I'm actually surprised at how much I've enjoyed the training. I'm already seeing week-on-week improvements, which is as unexpected as it is welcome! Having a project that both my daughter and I can focus on too is wonderful.
"One of my biggest concerns was that the time spent training would compromise on quality time with my family, but, if anything, the opposite has been true!"
To support Chris, please visit: justgiving.com/chris-walker58.
The Virgin London Marathon takes place on Sunday 22 April and is one of the most popular marathons in the world. During the race, starting in Greenwich Park and finishing on The Mall, participants will experience a beautiful 26.2 mile route past London's most magnificent landmarks.
To apply for a place, please visit https://www.blindveterans.org.uk/what-you-can-do/events-calendar/virgin-money-london-marathon/. Registration is £45 with a minimum sponsorship pledge of £2,000. You will receive a Blind Veterans UK running vest for the London Marathon, a fundraising guide and full support to help you reach your goal.
Blind Veterans UK was founded in 1915 and the charity's initial purpose was to help and support soldiers blinded in WWI. But the organisation has gone on to support more than 35,000 blind veterans and their families, spanning WWII to recent conflicts including Iraq and Afghanistan.
For more than a century, the charity has been providing vital free training, rehabilitation, equipment and emotional support to blind and vision-impaired veterans no matter when they served or how they lost their sight. Visit blindveterans.org.uk/support to learn more about the charity and how you can support its vital work today.
For all media enquiries please contact: Felix Arbenz-Caines, PR Assistant, Blind Veterans UK, 12 – 14 Harcourt Street, London W1H 4HD, E: Felix.Arbenz-Caines@blindveterans.org.uk, T: 020 7616 7941
Notes to Editor
Blind Veterans UK
Blind Veterans UK (formerly St Dunstan's) is a national charity that believes that no-one who has served our country should have to battle blindness alone. It provides blind and vision impaired ex-Service men and women with lifelong support including welfare support, rehabilitation, training, residential and respite care.
The charity needs £100 million over 5 years to provide lifelong support to blind ex-Service men and women. Find out more at: www.blindveterans.org.uk, and follow us on Facebook at: www.facebook.com/blindveteransuk and on Twitter at: twitter.com/blindveterans.