Two blind veterans, who are both supported by the charity Blind Veterans UK, have kept in contact during the lockdown period due to their mutual interest in woodturning.
Bill Whitworth, 76 and from Nottingham, has been sharing tips and tricks with Gary Stevenson, 53 and from Derby, after realising that they both share an interest in woodturning; a craft which involves using a lathe and hand-held tools to cut wood into different objects.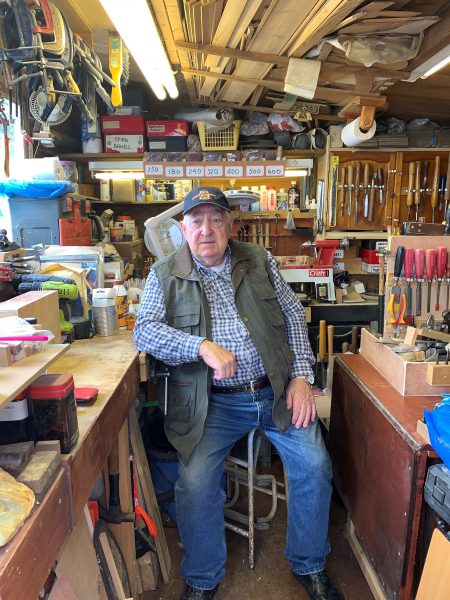 Gary served in the Army, in both the Royal Engineers and Royal Corps of Transport. He lost his sight due to meningitis and started receiving support from Blind Veterans UK in 2015.  He also volunteers for the charity as an IT helper and regularly visited veterans in his local area before the lockdown restrictions. He says:
"The charity have done so much for me and volunteering was my way of giving something back.

"They have given me training and done everything they can to try and get me back into work. One of the things they did introduce me to was woodturning".
Gary was introduced to woodturning at the charity's training and rehabilitation centre in Llandudno. He says:
"I really enjoyed it and found it very therapeutic. The charity have recently helped supply me with my own workshop so I can do it at home. I knew Bill from the charity and found out during lockdown that he has been doing the craft for 25 years! He's been helping me a lot over the phone with different tips and techniques".
Bill served in the Army from 1961 until 1983. He lost his sight due to Age Related Macular Degeneration. Bill trained as an apprentice carpenter and started woodturning as a hobby about 25 years ago. Before his sight loss, he made toys which he then sold on a stall in his local town centre. He says:
"I was into toy masonry and every year I used to make one big toy which I would auction off for a local charity. As my sight loss got worse I could no longer continue and I was out of the workshop for about two and a half years".
Fortunately, Bill started receiving support from Blind Veterans UK in 2018 and was able to continue working in his workshop thanks to equipment that the charity provided him. He says:
"They gave me a magnifier which I can put over my lathe. I remember when I first visited the charity's Llandudno centre and I came away feeling reinvigorated – I've never looked back. It's been great to meet someone like Gary with who I have a mutual interest. I've enjoyed helping him and it's kept us busy during lockdown".
The pair are hoping to attend a woodturning training week together at the charity's Llandudno centre once the lockdown is over. Gary says:
"Bill is a font of knowledge so it would be good to be able to get the chance to learn from him in person!"
Blind Veterans UK has adapted its service to support its 5,000 beneficiaries, 90% of whom are over 70 and thus being advised by the Government to self-isolate. The National Support Service will help blind veterans through this period of social isolation.
Nicky Shaw, Blind Veterans UK Director of Operations said:
"Having to self-isolate, blind veterans need our help right now with daily tasks, such as the shopping, and constant emotional support through this difficult time. So we are temporarily changing our service and mobilising our staff to provide practical, essential support to help the most vulnerable."

"There is so much that we can and must do to support blind veterans to help them maintain physical and emotional wellbeing, and to feel safe, reassured and cared for during this crisis."
You can keep updated on Blind Veterans UK's response to Covid-19 at blindveterans.org.uk/coronavirus where you can also find out more about supporting the charity to make this new service possible.