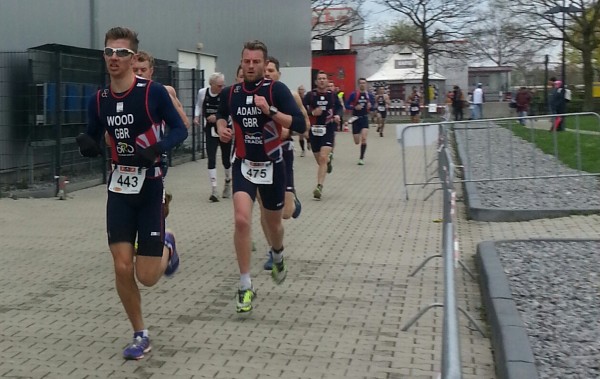 The RAF Association supports people in reaching their goals, whatever they may be. Wing Commander Steve Wood, Officer Commanding Base Support Wing at RAF Leeming got in touch when his son needed some support to achieve his dreams.
Aged 18, Oliver wants to become a top triathlete, and has worked incredibly hard, being selected to represent Team GB in the 2016 Sprint Distance Duathlon European Championships in Kalkar, Germany. It was at this time that Steve approached the Association to see if we could help Oliver on his way there:
"Watching the Brownlee brothers at the 2012 Olympics inspired me to take up triathlon. After buying my first road bike, I joined a local cycling club in 2013 and started competing in time trials and local sportives. I loved cycling, but knew that I would need some running training to compete in triathlons, so I joined a local running and triathlon club. In the past three years, I have competed in various duathlons and triathlons. In 2014 I competed in my first adult sprint triathlon, finishing in sixth place. By 2015, I was entering some high profile races, including the British Duathlon Championships and European and World qualifying races. In 2016, I qualified for the European Duathlon Championships in Kalkar, Germany, the European Triathlon Championships in Portugal and the World Duathlon Championships in Spain. Due to exam dates, I was only available to make the event in Kalkar.
"In April 2016, I travelled with my family to Kalkar, Germany for the Sprint Distance Duathlon European Championships. The race was held at Wunderland, a decommissioned nuclear power plant converted into a theme park, so a rather strange and unusual venue. Mixing with people from the many countries involved was amazing and I felt proud to wear the GB kit, represent my country and be part of the age group team. I was nervous about the occasion as it was my first major event. The nerves built as my race didn't start until 1900 hrs, so having registered and checked in at 0900hrs, it was a long day waiting. The course was open and windy, but the spectators cheering us all on made it more enjoyable and I finished eighth in my age category. I felt a little disappointed, as I didn't feel I had performed as well as I could have done. However, my parents reminded me how far I had come in the space of two years and how proud of me they were.
"I loved the experience of competing and am looking forward to competing in the 2017 championships in Soria, Spain. In all of this, I would just like to thank the Association, who were a key contributor in supporting me, as I try to compete at such a high level."
Rory O'Connor, RAF Association Director of Welfare and Policy said of Oliver: "What Oliver has achieved in the past couple of years is exceptional. We are proud to support him as he aims to become a top triathlete."