On Course Foundation (OCF) continues to respond to a real need for positive provision for wounded, injured and sick (WIS) Service personnel and veterans – supporting their recovery, on-going rehabilitation and successful re-integration to civilian life through nationwide confidence building golf events and opportunities for employment in the golf industry.
We deliver confidence building events throughout the UK, with the aim of:
•          increasing / maintaining your physical activity
•          improving your mental health and support wellbeing
•          developing your social interaction
Due to the current situation we continue to follow government guidelines and as a result our events have been postponed until further notice. In the meantime one of our dedicated teaching professionals is going to deliver a series of short introductory sessions via YouTube which you can join live or watch afterwards.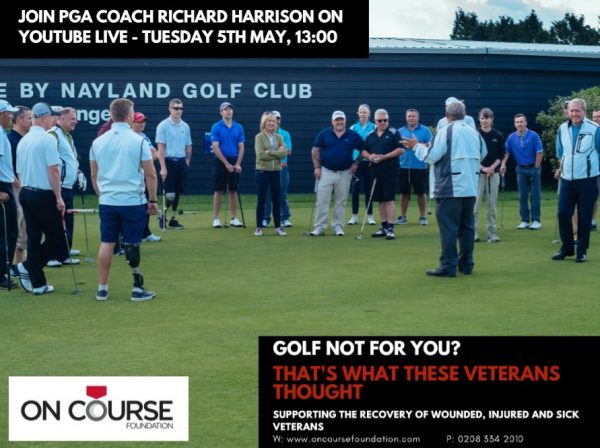 We have a taster session to view here which was recorded this week. https://www.youtube.com/watch?v=M6-Q1Hr4voI  To view the upcoming live sessions or to watch the recording please go to: https://www.youtube.com/channel/UCuNJ9YrriVnYau5-5EMc0gg
We are trying to encourage as many people as possible to give it a go and it doesn't matter if you have never played the game before – the majority of our 800+ beneficiaries were at the same stage when they were starting out. We have seen in our ten years of operation how golf can have a profound effect on rehabilitation.
We hope that these weekly 20-25 minute sessions, starting at 1300hrs on Tuesdays, from 5 May, will give you a taster of what we offer and that when things get back to normal you will be able to attend one of our events in person.
In the meantime, why not check out or website www.oncoursefoundation.com to learn more about the Foundation and how we can support you.
If you have any questions prior to the sessions, please contact mark.schorah@oncoursefoundation.com or call him on 07577 399657.
Download the