Veteran Richard Edsor, 94, from Harlow, served on HMS Formidable. He was a seaman and recalls that after a Kamikaze attack which damaged the flight deck, Formidable was only out of action for six weeks while they put new plates on the deck.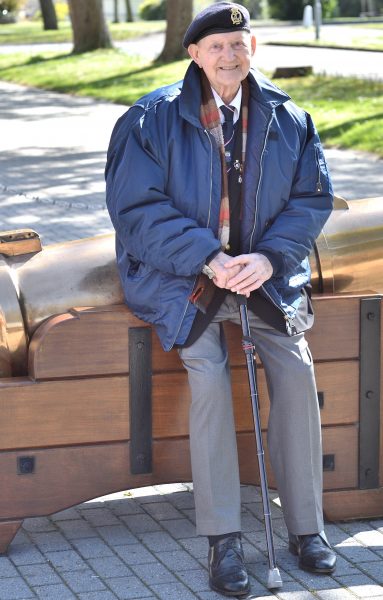 Richard said
"Unlike the Americans who had wooden decks and if they were hit that was the end for them, we had iron decks so we were able to get back into operations within six weeks after the Kamikaze attack on out flight deck."
Richard was at sea when the Japanese surrendered and when they got back to port in Australia, the men from the ship paraded through Sydney. An event he missed as he was on leave!
Richard returned to England in 1946 and says there was no one to meet them and that is why they will always be known as the "Forgotten Fleet."
Dick Goodwin, Vice President, Taxi Charity for Military Veterans, said, "T
he Taxi Charity has had a commemorative VJ Day tin specially designed for our veterans for the 75th anniversary. The lid of the tin features a work by war artist Thomas Dugdale. The tins will be delivered by volunteer London Cabbies and tins for those who live further away will be posted. With most VJ Day events having to be cancelled it is our way of letting the veterans know we are thinking of them on this very important anniversary."
If you know of a veteran whose life might be enriched by joining the Taxi Charity family, please visit www.taxicharity.org
About Thomas Dugdale
1880 – 1952
Thomas Dugdale was a member of the Royal Academy, a renowned portrait painter and served as a war artist during both World Wars One and Two. Born in Blackburn, Dugdale studied art at the Manchester School of Art, Royal College of Art and in Paris, first exhibiting at the Royal Academy in 1901 and continuing to do so until his death in 1952.
He enlisted in the British Army in 1910 and served as a Staff Sergeant in the Middlesex Yeomanry in Egypt, Palestine and Gallipoli during World War One, continuing to paint while on active service.
During World War Two, Dugdale lived in Suffolk where he organised a Home Guard unit.
Throughout the war, from July 1940 to July 1945, Dugdale received portrait commissions from the War Artists' Advisory Committee to depict several merchant seaman and RAF pilots. In addition to his paintings, Dugdale designed covers and woodcut illustrations for books and textiles. His work appears in the collections of the Royal Academy, IWM, The Tate and the National Portrait Gallery.
This illustration of a Chindit appeared on the 28th May 1945 cover of 'Victory' The Weekly for India Command. The name 'Chindit' was suggested by Captain Aung Thin, DSO of the Burma Rifles. Chindit being a corrupted form of the Burmese mythical lion-like creature, Chinthé or Chinthay, which traditionally guarded Buddhist temples.
The Chindits, officially known as the 'Long Range Penetration Groups', were special operations units of the British and Indian armies which saw action in 1943–1944, during the Burma Campaign. The creation of British Army Brigadier Orde Wingate, the Chindits were formed for raiding operations against the Imperial Japanese Army, especially long range penetration: attacking troops, facilities and lines of communication, deep behind Japanese lines. Wingate was an eccentric and a maverick who was admired and loved by his men. His unorthodox methods made him enemies in the Military hierarchy but had one very important supporter and ally – Winston Churchill.