Danny McCudden, from Dagenham, served on the Destroyer HMS Queenborough for four years.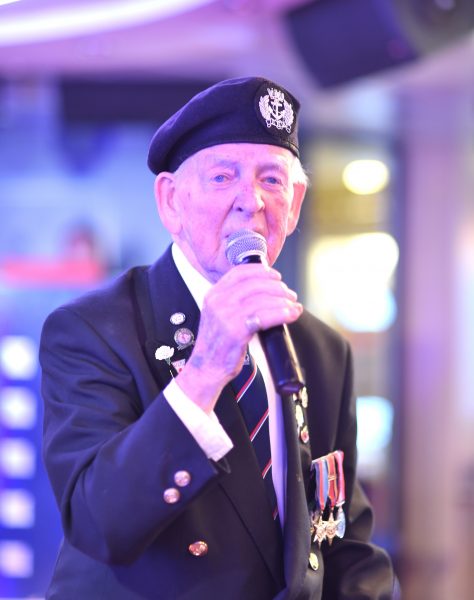 HMS Queenborough was a Q-class destroyer that served in the Royal Navy and Royal Australian Navy. Constructed during WWII as part of the War Emergency Programme, Queenborough was laid down in 1940 and launched in 1942, serving in the Arctic, Mediterranean, and Pacific theatres.
Danny arrived in Australia on his 21st birthday and ever the entertainer appeared several times on Australian radio and sang on the stage in Sydney with Gracie Fields. He remembers that after the Japanese surrender two Kamikazes flew over and attacked HMS Formidable killing 25 men.
When Danny returned after the war there was no crowd to meet them and when his Mum saw him for the first time, she was awfully shocked that he had not grown up to be a big man!
Dick Goodwin, Vice President, Taxi Charity for Military Veterans, said,
"The Taxi Charity has had a commemorative VJ Day tin specially designed for our veterans for the 75th anniversary. The lid of the tin features a work by war artist Thomas Dugdale. The tins will be delivered to local veterans by volunteer London Cabbies over the next two weeks and the tins for those who live further away will be posted. With most VJ Day events having to be cancelled it is our way of letting the veterans know we are thinking of them on this very important anniversary"
If you know of a veteran whose life might be enriched by joining the Taxi Charity family, please visit www.taxicharity.org