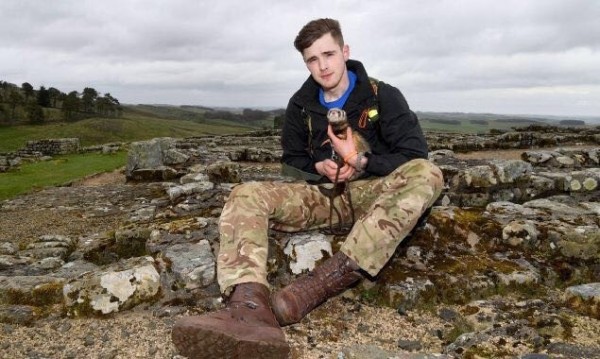 Last month Charlie Hammerton, an RAF veteran and his pet ferret, Bandit made the journey from Nottinghamshire to Oosterbeck in Holland to complete an eight mile walk to raise money for Combat Stress.
Both Charlie and Bandit wore WW2 uniform for the walk from the original drop zones in Oosterbeck to Arnhem Bridge.
"I have been to the area a number of times before, I've done parachute jumps, cycled and run, but never walked. Bandit and I walked the length of Hadrian's Wall together for Motor Neurone disease earlier this year, so I decided to bring him along too.
"Walking with Bandit definitely attracted a lot of attention, it was great to meet people and we even got some more donations along the way. They're aware of why people go out there each year and were more interested in why I was walking with a ferret. People were shocked and curious, but also really thankful when I explained what we were doing.
"As a former serviceman myself, I have come to appreciate the work of veterans charities. I've also been on the receiving end of mental health treatment, which gave me an insight into what a challenging condition PTSD can be. If the money we've raised for Combat Stress could help just one veteran it would all be worth it."
Robert Marsh, Director of Income Generation said "We're really grateful to Charlie and Bandit for choosing to support Combat Stress.
"Each year we receive more than 2,000 referrals from former servicemen and women struggling with their mental health. The money raised by fundraisers, like Charlie and Bandit means we can continue to support every veteran that comes to us for help."
To sponsor Charlie and Bandit please visit their Just Giving page.