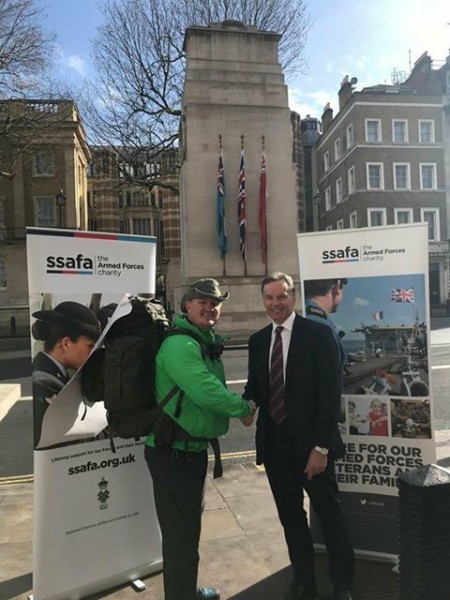 Army Veteran, Dave Mills, has pledged to walk for the next two years for SSAFA, the Armed Forces charity
Yesterday Army veteran Dave Mills set off on his two-year-long fundraiser, walking around the globe to raise money for SSAFA.  On a sunny Monday morning, Sir Andrew Gregory CEO of SSAFA and fellow staff gathered to wave him off from the significant starting place of the Cenotaph in London.
Dave served for 14 years as an infantryman in The Royal Regiment of Fusiliers, before moving onto serve as a paramedic overseas. Now wanting to put his adventurous spirit to work for by raising money for serving Forces personnel, veterans and their families in need, he has embarked on one of his greatest challenges to date.
From leaving his front gate in Bedworth, Warwickshire and heading to London, Dave will then head down to cross the English Channel before embarking on a route that includes: France, Germany, Austria, Slovenia, Croatia, Bosnia & Herzegovina, Serbia, Romania, Ukraine, Russia, Mongolia, China, Laos, Cambodia, Thailand, Okinawa, Mainland Japan, United States of America, Mexico and Peru before heading back to the UK. Being a massive football fan, a personal highlight for Dave is set to be his arrival in Russia in time for the World Cup
He has chosen to raise money for his local branch, SSAFA Warwickshire and Coventry, after seeing the vital work they do with the Armed Forces in his community. The local branch is chaired by Dave's former comrade, Kevin Bowman.
SSAFA provides lifelong support to the Armed Forces, veterans and their families in times of need. Beginning this vital work in 1885, this makes SSAFA the oldest tri-service, military charity running in the UK. This year alone, staff and teams of volunteers have helped over 67,000 people – from World War Two veterans to those involved in more recent conflicts and their families.
It has become clear over more than 130 years of providing Forces support that everyone faces different challenges, so SSAFA uses a tailored approach to meet the needs of today's serving community. Whether it's practical, emotional and financial support – SSAFA is there to serve the Armed Forces family every step of the way.
Follow Dave's progress and donate to his fundraiser here: https://www.justgiving.com/fundraising/kevin-bowman3
 ENDS
Notes to editors
SSAFA, the Armed Forces charity, has been providing lifelong support to our Forces and their families since 1885. Every year our staff and team of volunteers help more than 67,000 people, from Second World War veterans to young men and women who have served in more recent conflicts.
For more information visit www.ssafa.org.uk and follow us on Twitter: @SSAFA.